Fosjoas K3 Sitting-Posture Electric Scooter Makes Travel Much Safer and Enjoyable
Source:Fosjoas begin Time: 2015-12-24
Intelligent electric self-balancing scooters market is more and more booming with each passing day for the battery explosion incidents happen now and then.
In the final analysis, it is because some unethical manufacturers sacrifice consumer's life so as to gain huge money. Low-grade batteries will cause explosion easily. Thus, many people who select electric scooter for daily travels start to worry about their safety. Actually, the electric scooter under reliable brand has safety guarantee. The suggested scooter type today is the famous Fosjoas K3 sitting-posture electric scooter, which becomes the blessing to those people who get used to ride electric scooter to work every day.
First and foremost, Fosjoas K3 sitting-posture self-balancing scooter has nothing to do with explosion. The adopted high-end SONY lithium-ion battery has been through various strict tests so as to make sure stability and safety during riding, charging and transportation. Compared with ordinary lead batteries, SONY lithium-ion battery enjoys higher work efficiency and longer service life. Meanwhile, the sitting-posture riding mode ensures comfortable riding experience, which makes long-distance travel be possible. Generally speaking, the maximum range of Fosjoas K3 balancing scooter can reach as long as 30km, which almost can cover all travel demands in daily life.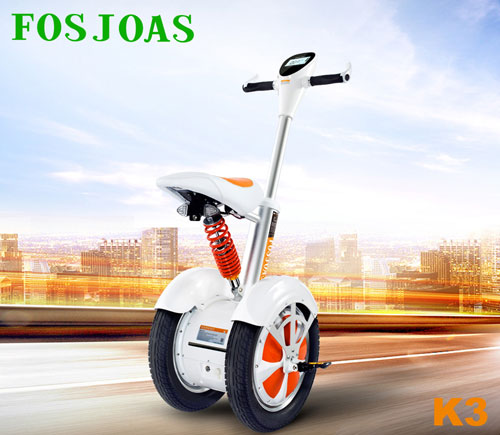 In addition, the innovative three systems largely guarantee the riding safety of Fosjoas K3 two wheel self balancing scooter. Electronic brake system offers quick and accurate brake with only 50mm stopping distance, and the brake button is beside the handle that gives safe and easy operation. Hydraulic suspension system aims at absorbing the vibrations so as to ensure comfortable and stable riding experience. When it comes to automatic steering sensor system, it is used to protect rider's safety during the night riding. All in all, high safety and enough range make Fosjoas K3 scooter the first choice of office workers. What's more, it can help them avoid traffic jam in rush hours.