Fosjoas Intelligent Self-balancing Scooter Acts As An Incentive For White-collars
Source:Fosjoas begin Time: 2015-12-26
When it comes to offering incentives for employees, people may think about stock options, travelling or money. These things are no longer novel to employees. Thus, it becomes increasingly difficult for employers to come up with new ideas about incentives for employees so as to cheer them up. Now, the emergence of FOSJOAS self-balancing two wheel electric scooter turns the situation around. As it is not only convenient but also stunning and stylistic, it is reckoned as the best transport by the office workers.
Recently, there is a company whose boss decided to take FOSJOAS self-balancing scooter K3, the latest model by FOSJOAS as the incentive for employees. Whoever achieves the performance targets will get one. When the new announcement came out, the employees felt rather excited and motivated. Through hard work, Brunce got the prize eventually. Upon having the vehicle in hand, she said, "It is such a wonderful prize. I have never received such a prize that is so good-looking and also practical. With the help of the two-wheeled scooter, I believe I can have a great ride out on the road and also save some money, for I don't have to take the bus or taxi then."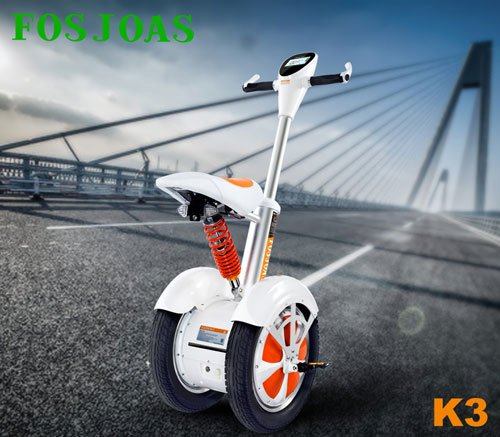 Now, Brunce always rides the transport to work and from work. As a result, there is no need for her to crowd into a bus or metro, which is quite a blessing for her. When she arrives at the office in the morning, she can take the transport with her and just put it aside. Because FOSJOAS self-balancing unicycle electric is powered by electricity, she just needs to have it recharged at night. Thanks to the top quality of the batteries, it doesn't take her long to finish recharging. All in all, this transport has become her favorite in the daily life. FOSJOAS electric self-balancing scooter, convenient and fashionable, could be a great incentive for employees.