Fosjoas U3 SUV Scooter, an Excellent Helper for Holiday Travel
Source:Fosjoas begin Time: 2015-12-28
As material life quality is increasing with each passing day, people prefer to relax themselves by a comfortable way and travelling around is the top choice. A few days later, the annual and long-expected Christmas Day is coming. Many people can take a 7-day public vacation. Besides, some people also ask for annual leave at this moment so as to enjoy a longer holiday at one time. Then, all is ready except for a suitable transport. Maybe, some people will firstly suggest a private car. Of course, private car is really useful if the destination is several hundred kilometers away, but how can you enjoy the beautiful scenery? By walking? Obviously, long-time walking will make people fatigued. The one that can give people a free and relaxing travel is Fosjoas U3 SUV two wheel self balancing scooter.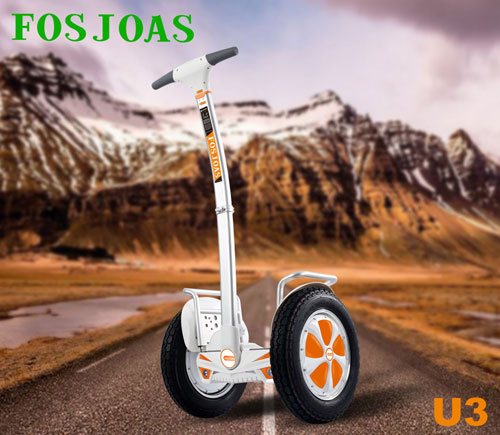 Fosjoas U3 self-balancing scooter is powered by 680Wh SONY lithium-ion battery that can support 30km if fully charged. People have two travel modes. The one is to ride Fosjoas U3 self-balancing scooter to travel around directly, but the precondition is that the destination is not far. The other one is to drive private car and put Fosjoas U3 scooter in trunk. When get to the destination, people can park the car and ride Fosjoas U3 scooter to enjoy the beautiful nature. All in all, the travel mode is decided by the distance.
Fosjoas U3 SUV electric unicycle self balancing scooter is equipped with two 16-inch Cheng Shin tyres that have specially-designed tread patterns which pave the way for stronger grips and better adaptability to various tough road conditions, such as mountain road, countryside path or even desert. Meanwhile, Fosjoas U3 SUV scooter is also equipped with high-quality sound chamber, which can be connected with cell phone and play the beautiful songs in it. Then, the journey will be not only relaxing, but also joyful.