Hands-off Fosjoas Intelligent Single-wheeled Electric Scooter
Source:Fosjoas begin Time: 2016-01-04
Bikes, electromobiles and automobiles have entered a bottleneck period. Not too much innovative products come into being. However, science advances greatly, and transport vehicles have become highly intelligent. New types of vehicle turn up. Traditional transport vehicles for individual use require rider's hands to control the riding direction. However, FOSJOAS intelligent self-balancing electric unicycle changes this type of riding mode. As an innovative product, it enjoys booming sales in many countries. When the globe is focusing on environment issues, people see the vast application foreground of electric self-balancing unicycles.
There are still some entrepreneurs who are pessimistic about the electric unicycle industry, since there is an astonishing increase of producers. However, FOSJOAS strives to make a difference in the homogeneous market. A lot of creative ideas have been applied to its various products and there are more to be explored. The effort it has made to pursue ultimate safety performance is far beyond any other producers to catch up. FOSJOAS electric self-balancing unicycle is each installed with a foot brake. Riders could stop the vehicle as they please. This is a desirable feature as well as portability for users.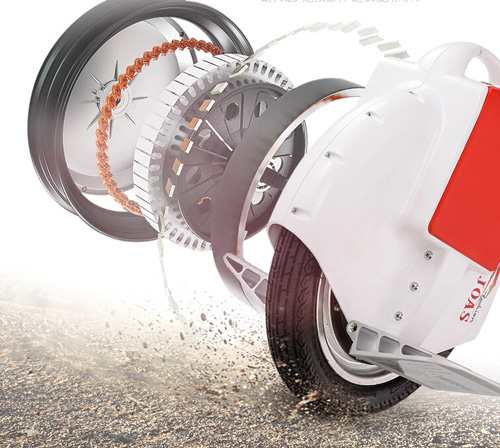 When there are many people who have not sensed new features to be developed, FOSJOAS get rid of the stale and bring forth the fresh. To meet the needs of safe night riding, FOSJOAS has introduced blinking LED lights to all its electric one wheel intelligent self-balancing scooters. The cool colors of the lights bring along head-turning effects for riders. Electric self-balancing scooter has liberated riders' two hands. It is controlled by mere change of center of gravity. Riders could do other things with their empty hands during riding. For example, food deliveryman could hold trays while riding and daily commuters could carry handbags. The power of FOSJOAS intelligent unicycles is no inferior to any other type of commuting vehicle. Above all, the most distinctive feature of intelligent unicycle is that it is absolutely environmentally-friendly. It appeals to the calling for a green world.