High-quality Intelligent Electric Self Balancing Unicycle By Fosjoas
Source:Fosjoas begin Time: 2016-01-05
Moben Global Inc. was established in 2010. Since its foundation, FOSJOAS has been focused on product development, trying to bring consumers premium electric scooters. Through several years' hard work, FOSJOAS has successively rolled out various models of different series, including the intelligent one-wheel scooter, twin-wheeled self-balancing scooter and two-wheeled intelligent scooter. These series are designed to satisfy different needs of consumers.
The single-wheeled scooter V6 features small size and delicacy, which is rather suitable for students. The models of this series are commonly small and flexible, which consumes less electricity than other series. Plus, since it is rather small, it can be put in the bag, which is convenient for students. The V2 characterized by lovely outlook and simple operation is a great option for girls. The twin-wheeled design enables the vehicle to have a larger contact area with the ground, making the ride even smoother and safer. Besides, the decoration of breathing lights adds more charm and mystery to the transport.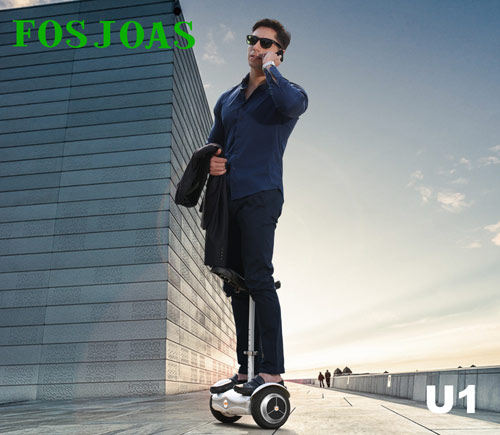 As to the two-wheeled intelligent scooters like U1, U3 and V9, it is modeled after the style of Lamborghini, which fits the taste of athletic people more. Every detail is carefully considered, such as the big display screen, the foldable shaft, the fender made of aeronautical materials and its 16-inch wheel hub. When it comes to the newly launched K3, it is definitely for the high-end elites.
As a refined version of all the other models, it has gone through some breakthroughs. It is designed with sitting-posture riding model instead of the traditional standing-posture one. There is a leather-made saddle added to K3, which makes the rider feel more comfortable during the ride. Moreover, a new electronic brake system replaces the original mechanical brake system. All the time, FOSJOAS electric self-balancing scooter has gained good word-of-mouth in the industry and recognition among consumers. And FOSJOAS will remain innovative and develop more quality electric scooters for users.