There Is A Bright Future In Store For Fosjoas Intelligent Balancing Electric Unicycle
Source:Fosjoas begin Time: 2016-01-09
FOSJOAS intelligent electric unicycle self balance is known as a portable transport with small size that offers much convenience for people's life. What's more, it emits no exhaust during the ride and operates in a unique way. It has a range of 48 miles, making it a very promising transport within the industry in the following four aspects.
First, FOSJOAS electric unicycle is powered by electricity, so it will not generate any air pollution, which is very eco-friendly. It is also equipped with high-tech intelligent chip that enables the vehicle to achieve self-balancing via body control. The self-balancing design makes it safer for riders have a ride on the road. Also the riders are able to adjust the speed through their body movements, reflecting the intelligence of electric scooter.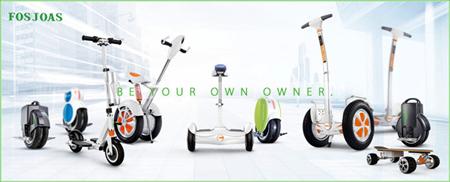 Secondly, FOSJOAS electric self-balancing scooter is designed through the combination of ergonomics and kinematics. While riding the vehicle, riders have to use various muscles of the body. Frequent use of the vehicle can help exercise their coordinate ability, improve their reaction ability and promote the brain development. Also, it can contribute to losing weight, which is a blessing for girls.
Thirdly, FOSJOAS electric scooter has an exquisite and fashionable outlook as well as bright colour. Riders are even able to decorate the transport according to their own ideas. Riding such a vehicle, users will easily attract the attention of passers-by. It is a great transport to satisfy the vanity of some people.
Last but not least, FOSJOAS self-balancing scooters are easy to steer. Riders can have a ride by themselves or with their friends. During the ride, they can have a face-to-face talk instead of communicating on social media. In addition, they may have an electric scooter riding competition, which is also a great way of bonding. In conclusion, FOSJOAS electric scooter is able to meet various needs of modern citizens in terms of transportation. Thus, it counts as quite a promising transport at present.