Fosjoas K3 Sitting-Posture Electric Scooter Offers a Relaxing Commuting for People in Cold Winter
Source:Fosjoas begin Time: 2016-01-11
Considering traffic jams, many people have to get up very early and go to work in freezing winter morning. That's really painful. If there is a transport that offers comfortable riding experience and is able to avoid traffic jam smoothly, people's life will be much more relaxing. Actually, such a transport does exist and its name is Fosjoas K3 sitting-posture electric scooter.
Comfortable riding experience provided by Fosjoas K3 self-balancing scooter comes very first. Like others, it is based on aerospace attitude control theory, fuzzy software algorithm and gyroscope system to keep itself balanced automatically, which makes riding free. All controls can be easily finished by regulating body gravity. For example, if riders slightly lean forward, Fosjoas K3 will advance. The adopted sitting-posture riding mode also offers easy riding. Riders won't feel fatigued even continuously riding for one hour. Besides, the hydraulic damping system of Fosjoas K3 scooter can absorb vibration on bumpy road so as to offer stable and comfortable riding experience.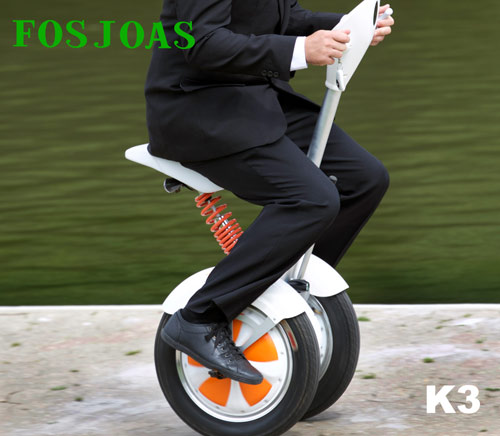 High riding safety gives people worry-free commuting. It is well-known that road in cold winter is easy to be frozen and very hard. The adopted two 16-inch Cheng Shin tyres have specially-designed pattern tread, which are adaptable to winter's road condition. Meanwhile, Fosjoas K3 scooter firstly adopts electronic brake system, which offers accurate and quick brake with 50mm stopping distance. Even if emergency happens, riders' safety can be guaranteed. The automatic steering sensor system ensures safe riding in the night. If riders want to turn left, the left taillight will blink immediately.
Besides a commuting transport for work, Fosjoas K3 electric unicycle also can cover other travels in people's daily life, such as attending a party in friend's house, a weekend trip or going shopping and so on.