Fosjoas K1 Electric Skateboard Makes Me Fall in Love with My Girl
Source:Fosjoas begin Time: 2016-01-12
Fosjoas K1 electric self-balancing scooters are the key of love relationship between my girlfriend and me.
In a sunny and warm winter afternoon, I couldn't wait to ride my new-bought Fosjas K1 electric skateboard and I chose the spacious People's Square behind my house. I was weaving among crowds freely, but I didn't know a girl was fixing her eyes on me until I almost knocked her down. "Oh…I am really sorry" I said immediately. "Never mind! Can I have a try" she replied. "Of course!" I said. That's the very beginning of our love story.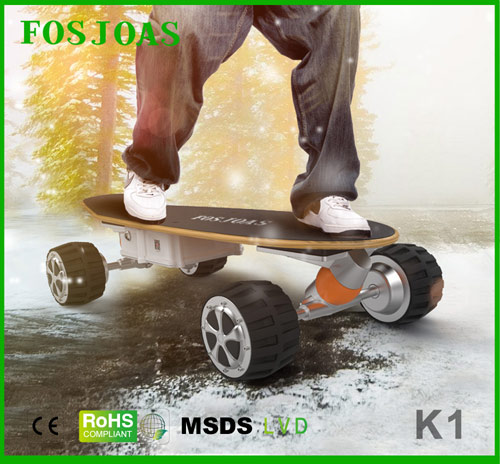 Undoubtedly, that bold and beautiful girl has become my girlfriend now. Fosjoas K1 electric scooter accompanies us almost every day and she also loves it to die. Compared with traditional skateboards, Fosjoas K1 electric skateboard is totally different and it is suitable for girls to ride, which benefits from two main aspects. On the one hand, it is based on aerospace attitude control theory, fuzzy software algorithm and gyroscope system to keep itself balanced. Therefore, all controls, like advancing, changing direction, accelerating and braking, can be easily realized by regulating body gravity. On the other hand, it is powered by SONY lithium-ion battery, which doesn't need much physical strength. Therefore, my girlfriend also can ride it smoothly. Besides, Fosjoas offers many beautiful and attractive stickers for Fosjoas K1's board. I select one with Spider-Man pattern, because my girlfriend loves it very much.
Fosjoas K1 cheap electric skateboard also has become my transport to date my girl. My K1 skateboard is equipped with 163Wh lithium-ion battery, which sustains the maximum range of 23km. However, the distance between my girlfriend's house and mine is just about 8km. Thus, I completely can ride Fosjoas K1 skateboard. Several days later, it is the birthday of my girlfriend. I intend to buy another Fosjoas K1 skateboard for her as the gift. Then, we can have a weekend trip by riding Fosjoas K1 skateboard together.