My First-Hand Test Riding Experience of Fosjoas U1 Mini Electric Scooter
Source:Fosjoas begin Time: 2016-01-14
Fosjoas, as the most reputed and responsible intelligent two wheel electric scooter unicycle manufacturer, never persuades consumers to buy its products in the very first place. On the contrary, it always welcomes wide consumers to have a test riding on scooters with different types. Then, consumers can get to know which scooter type is suitable for them and whether they want to buy one or not. That's really sweet. Then, the following would like to share my personal test riding experience of Fosjoas U1 mini electric scooter.
U1 mini electric scooter was published in last new product release conference. I am a big fan of Fosjoas scooters and have owned V5 electric unicycle and V9 two-wheeled scooter already, but I still bought U1 scooter after test riding. Actually, I fall in love with it at first sight, because I really love its cute and exquisite figure. Meanwhile, it is equipped with a moveable saddle, which offers double riding modes: standing-posture and sitting-posture. How funny is that! Standing on pedals is very soft and comfortable, because they are made from PC materials. Two little tyres are also deserved to introduce in particular. Although they are small and delicate, they can provide endless power. The unique design of tread pattern makes tyres have more extraordinary adaptability in outdoor environment. I can ride it on some bumpy roads smoothly and stably.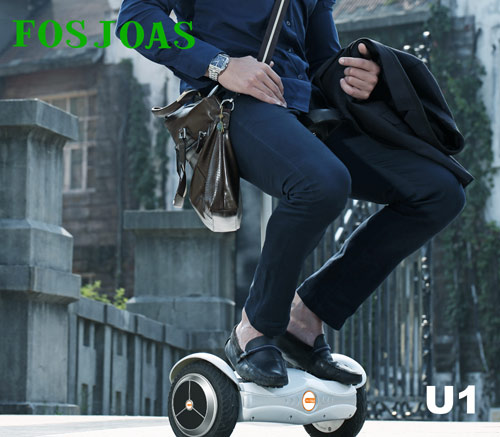 All in all, riding Fosjoas U1 mini intelligent self-balancing scooters gives me a totally different riding experience and also very happy mood. Its exclusively-designed APP of U1 scooter is really fantastic. In order to help me know this APP better, the staff there downloaded one and installed it in my phone on the spot. Then, I can get to know the riding speed, remaining battery, total mileage and outdoor temperature via my phone conveniently. Guess what? I've placed an order immediately after my test riding.