Fosjoas K2 Electric Scooter Becomes a Tool for John to Make a Living
Source:Fosjoas begin Time: 2016-01-15
John is one of my neighbors and he is a 52-year-old man. A year before, he became a laid-off worker. In order to change the cash-strapped life, John started to do driving service for people who drink liquor. It is truly a good way of making money, but also very hard, especially in cold winter. In order to save money, John mainly relies on walking and taking public bus among different clients. However, his situation has thoroughly changed since he bought a Fosjoas K2 electric unicycle, which makes his driving service much easier than before.
Fosjoas K2 self-balancing scooter is powered by SONY lithium-ion battery and relies on aerospace attitude control theory, fuzzy software algorithm and gyroscope system to keep balance. John slightly leans his body forward and the K2 scooter can move forward automatically. Therefore, even if continuously riding Fosjoas K2 for several hours, John doesn't feel tired. Meanwhile, John selects a Fosjoas K2 with 162.8Wh lithium-ion battery that offers the maximum range of 20km. What if the battery runs out? Does John have to walk or take a bus if he wants to keep on working? Hadn't he better find a place and recharge the battery? Both the answers are "No"! It is because Fosjoas K2 scooter is equipped with a replaceable battery unit. That is to say, John can take one or more spare batteries and replace the run-out one in time, which is the feature of Fosjoas K2 scooter.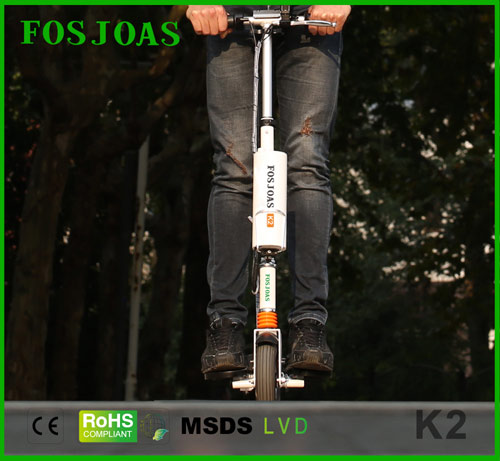 Some people will ask how John handles Fosjoas K2 electric motor when he is rendering driving service for his clients. Actually, Fosjoas K2 two wheel self balancing scooter has multiple folding systems and thus it can be folded into very small figure and put in clients' trunk very conveniently. John often kids that Fosjoas K2 scooter is his best buddy now.