Dual Mode Of Ride-fosjoas Two-wheeled Self-balancing Scooter U1
Source:Fosjoas begin Time: 2016-01-19
For the moment, there is a strong vogue for FOSJOAS U1 two wheel self balancing scooter. Lucia is a scooter-lover. She bought the electric unicycle and the twin-wheeled intelligent scooter. The advent of U1 surely rouses her intention of buying one set of such model. Since the public think highly of this mode, Lucia got out of her way to the scooter store and picked on set of U1. In the last two weeks, she almost rode it every day. Therefore, she naturally has an overall comment on this model.
Equipped with an adjustable seat, FOSJOAS two-wheeled intelligent scooter U1 is foldable in a sense. On that day when Lucia bought it, she directly pulled out the seat and put the whole base of U1 into the boot. The adjustable seat design is a deep reflection that Moben Global Inc. gives a careful thought to the experience of the rider in full. At first sight, Lucia lost her heart to this model.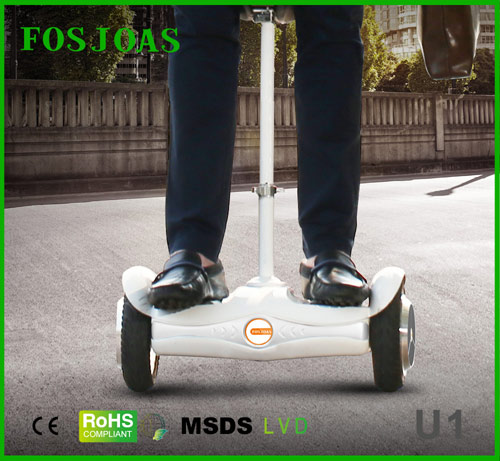 One week after Lucia bought FOSJOAS electric scooter U1, she set up a long trip. The whole trip is about 10 km. With U1, Lucia sits on the seat of U1 and she did not feel any fatigue. Sitting on the seat, she can enjoy the beautiful scenery to her heart's content. If the nice scenery is out of her sight, she could choose to stand up and have a long view of the scenery. The integration of sit- and stand-on model makes FOSJOAS U1 more prevalent all over the world. Lucia thinks this scooter is also suitable for sightseeing. Tourism is an effort although it is regarded as a treat in many people's eyes. During a whole day, they have to cover a long trip and the fatigue will grip them, making a dent in fun of tourism. With U1 two wheel electric scooter unicycle, everything will change. Lucia has been planning a journey with U1.