Good Experience Of Buying Fosjoas Electric Self-balancing Scooter
Source:Fosjoas begin Time: 2016-01-20
Under Moben Global Inc., the FOSJOAS self-balancing two wheel electric scooter has been the household name for every scooter-lover. As the business expands each year, FOSJOAS outlet store springs up with the passage of day. As with varied models and frequent roll-out of new models, those stores are becoming more scintillating and alluring.
The inner decor and exterior design of the stores represent the language of FOSJOAS-simple, stylish and innovative. Today a sudden idea occurs to John. He sets out to head for the nearest FOSJOAS store to buy a satisfactory electric scooter for many friends around him own it. To keep up with his friends and not to lag far behind them, he finds it is literally necessary to buy one set.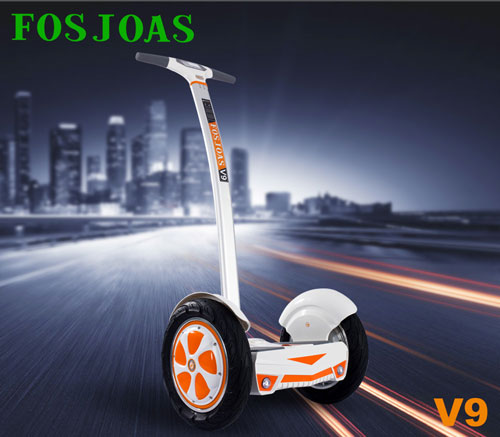 The moment John enters the FOSJOAS store full of festival favor. As he opens the door, he is greeted by a host of electric self-balancing scooter of one or another sort. The two-wheeled intelligent scooter V9 is the most eye-catching, which attracts John to come up to it for a closer look. The two-wheeled structure is a main draw that makes it stand out from other models. The store owner tells John, this model is his best-seller in his store. He adds that he has sold out 5 units of FOSJOAS V9 within one week. Although FOSJOAS V9 costs a bit higher than other models, it is worth that price. At his words, John is eager to buy it if he has enough money. However, he tell himself, he surely will afford it one day.
In this store, John badly wants to purchase one set, FOSJOAS two wheel electric scooter V2. According to the owner, FOSJOAS V2 has been improved on the basis of V6 which is an electric one wheel unicycle. It is as agile as V6 and has a cut above V6 in terms of the ability to keep balance. The owner strongly recommends it to John. Finally, John buys it.