Fosjoas Electric Self-balancing Scooter Changes The Life Of White-collar
Source:Fosjoas begin Time: 2016-01-25
The formal use in public of self-balancing two wheel electric scooter can trace back to the year of 2003, but it is used widespread in the recent years. As the electric self-balancing scooter is known to the public, it is increasingly integrated into the daily life.
These days, the young men use it as an entertainment vehicle. And in some large plants, it is used as transports between the two workshops. It is eco-friendly and makes no noise. When it runs, it never produces emission and distracts other who are working. For city dwellers, the intelligent self-balancing scooter is an ideal personal transport. It is quite popular with the white-collars. Bard is a common white-collar in the city. Recently he has bought one set of FOSJOAS electric self-balancing scooter K3. From then on, its commute changes a lot.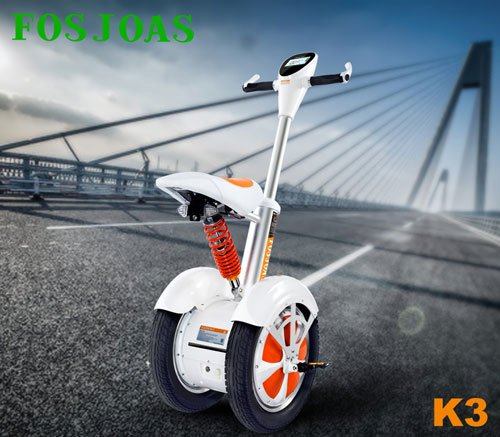 If it were months ago, Bard had to wait for half an hour to pass the junction. The junction is much crowed in the rush hour. Now he shrugs it off and it is no longer a trouble for him. He could ride FOSJOAS two-wheeled intelligent scooter K3 on the pavement. As long as the signal light turns green, he could go through the zebra line together with other pedestrians. Months ago, Bard is usually late for work and therefore he is always dressed down by his supervise. Now it will not happen to him. Even he can sleep for more time and get up later.
This is not the whole story for Bard. FOSJOAS K3 not merely servers the end of transportation, but also acts as a superb way to work out. Almost white-collar such as Bard is in a dire need of regular exercise. Now Bard can snatch the time to work out because it is a brilliant work-out to ride FOSJOAS two-wheeled intelligent self-balancing electric scooter K3. The sedentary job might cause some disease. With FOSJOAS K3, Bard will keep shape and lead a more healthy life.