Why Is Barrett Infatuated With Fosjoas Electric Unicycle V6?
Source:Fosjoas begin Time: 2016-02-01
Barrett is a veritable scooter-lover, who took to electric scooter three years ago. Although there are many kinds of intelligent self-balancing scooters like the electric unicycle, the two-wheeled intelligent scooter and the twin-wheeled self-balancing scooters, the passion of Barrett for electric unicycle FOSJOAS V6 remains and does not sway. He has played with his precious electric scooter for nearly two years. He thinks, as a veteran player, only FOSJOAS electric unicycle V6 can show his amazing wheelie.
Barrett is a highly skilled rider of the single-wheeled intelligent scooter amongst his friends. A lot of his friends turns to him for the know-how of riding FOSJOAS V6. In the community of the intelligent self-balancing scooter, Barrett is a credit to this organisation. He won many award and praises for his community. Many wonder why FOSJOAS electric unicycle V6 appeals to Barrett.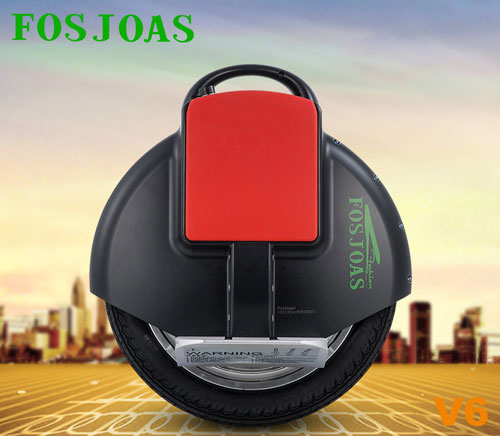 For such veterans as Barrett, the challenge cannot put a dent in their confidence and bravery. On the contrary, it can stimulate their desire of conquering and overcoming it. By getting around these challenges, they gain the massive sense of achievement and honour. So does Barrett. During the ride of FOSJOAS single-wheeled intelligent scooter V6, he can prove his prowess in wheelie. Rounds of applause from audience are regarded as the telling regard for his ability. FOSJOAS V6 is noted for its agility and hardness to use. If he wants to conquer it, one has to continuously hone his ability to ride it. The strenuous efforts make for the success. In order to expertly steer FOSJOAS V6, Barrett did likewise.
Not surprisingly, Barrette is infatuated with FOSJOAS intelligent self-balancing one-wheel scooter V6 if one knows his personality. He is brave and persevering. Just on that account, he can make it and steers FOSJOAS V6 smoothly. In the eyes of beginners, FOSJOAS V6 is a formidable task. The agility and the hardness usually scare away many new players. Merely skilled players like Barrett can get over it.