Thomas's Rental Business Of Fosjoas Electric Scooters At Trade Show
Source:Fosjoas begin Time: 2016-02-03
What is the biggest bugbear if you are to attend a trade show? The first biggest bugbear must be the large area of the venue of the trade show. The trade show is so large that it is impossible for one to complete a complete tour around the trade show within one day. Is there any solution to this problem? The car is too large to drive inside the trade show. What is worse, it will produce exhaust and pollute the surrounding environment. Thomas is a very shrewd man who runs a rental business of electric self-balancing scooters near the trade show. In his store, there are many kinds of self-balancing two wheel electric scooter made by FOSJOAS. The rental service is quite popular with the visitors, and even the security guards.
When the trade show takes place, millions of visitors swarm into the venue. In addition, a host of security guards will police the exhibition. Being a visitor who has to cover several kilometres for one day in order to make a complete tour around the trade show, one is bound to suffer from the toil. They are thirsty for a solution or some alternative transports that can ride inside the tradeshow. Now Thomas runs a store. The store owns a host of electric scooters, such as FOSJOAS V9, FOSJOAS U3 and K3. Each trade show, Thomas usually rents out nearly one hundred sets of intelligent self-balancing scooters. Apart from the visitors, these electric scooters are also popular with those security guards.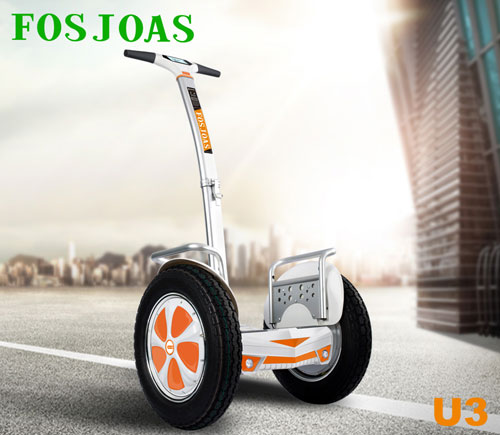 According to a visitor who rents a set of FOSJOAS two wheel electric scooter from the store of Thomas, the scooter comes in handy when he pays a visit to this exhibition. Even though he has walked a whole day around the venue, he does not feel tired at all. He adds that he still keeps energetic. With the electric self-balancing scooter, now he has enough enthusiasm for business visit. It is a great help.