Thrilling Experience Of Fosjoas Electric Scooter V6
Source:Fosjoas begin Time: 2016-02-15
Today, Stanley learns from her friends that FOSJOAS V6 single-wheeled electric scooter is featured by robust and rough appearances with large-sized wheels and simple color collaboration. And like its rough design style, FOSJOAS V6 electric scooter provides marvelous riding experience due to its brilliant speed and powerful momentum which can make entire riding experience exciting and trilling.
At their words, Stanley badly wants to buy one FOSJOAS V6. Female riders love the femininity feature of FOSJOAS V6 self-balancing scooter and enjoy the wonderful riding experience with FOSJOAS V6. The large-sized wheel is engraved with intersected stripes that can increase the friction, improving the capability of ground holding. Therefore, female riders can ride on any varied terrains easily. Female riders love the feeling of conquering with FOSJOAS V6 self-balancing electric scooter. With certain riding skills, riders can control FOSJOAS V6 electric scooter very well and represent power and strength. When Stanley goes home, she at once places an order for it online.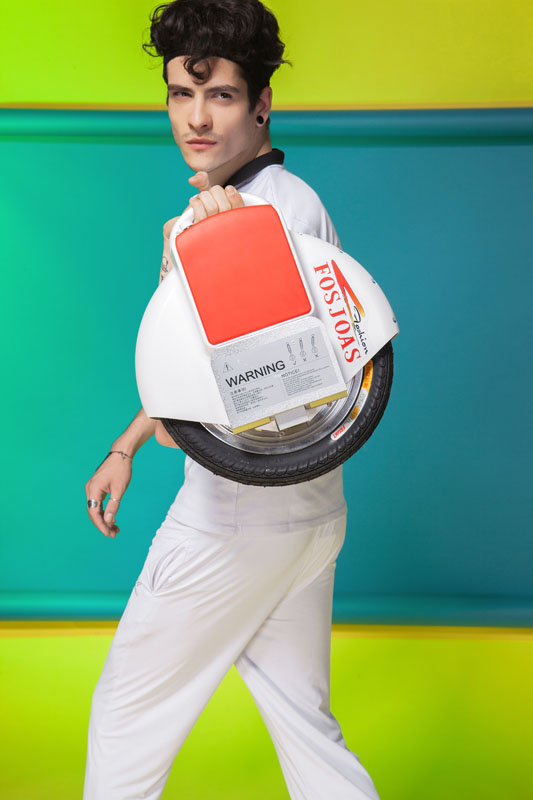 When the scooter arrives, the first impression Stanley has is its speed. Speed is another advantage of FOSJOAS V6 single-wheeled self-balancing scooter. In fact, FOSJOAS V6 is able to reach the speed of 18 km/h, which is fascinating for many female riders who love speedy riding experience. Besides, with large battery capacity of 1700 wh, FOSJOAS V6 electric scooter can be fully powered with tremendous momentum. Therefore, Stanley can experience the pleasures of drag racing from riding FOSJOAS V6 self-balancing scooter.
On the other hand, Stanley like the delicate size of FOSJOAS V6 electric one wheel. Due to its small size, she can easily take FOSJOAS V6 electric scooter away by putting it in the car boot, and put it out when they arrive destination. It is really convenient. In terms of quality, the firm scooter body is unbreakable and durable, manifesting the quality of the iron. It is the type of scooter that indicates power, strength, speed as well as firmness. Stanley gets to find it an investment and she warms to it now.