Fosjoas Electric Scooters Enters The Gift Store Of Bruce.
Source:Fosjoas begin Time: 2016-02-18
Bruce is thirty years old and he runs an exquisite gift store. In his store, numerous adorable and delicate gifts abound. When entering his store, one will be greeted by a favor of dreamland. For those regular clients, the store is their hangout. Each time the festival turns around, Bruce prepares a lot of gifts, most of which are novel and intriguing. The moment they see them, these clients cannot help buy them. Few customers can resist the temptation. Of late, he purchased a batch of FOSJOAS intelligent self-balancing electric scooter. These electric scooters are dashing and stylish. In terms of quality, they are absolutely sturdy and safe. Bruce guesses these electric scooters will decorate his store as gifts. The festival is coming. These electric scooters surely will become the best-seller.
Today, a middle-aged man entered his gift store. The man had want to buy a toy for his 13-year-old son. When he saw FOSJOAS electric unicycle V6, he gave up his previous idea and he turned to the FOSJOAS V6. Through the recommendation from Bruce, the man increasingly thought this kind of FOSJOAS electric scooter would appeal to his son. With it, his son must enjoy much fun by riding it. Thus, he bought it without any hesitation. Before he left the store of Bruce, he promised to introduce this kind of electric scooter to his friends and colleagues in his workplace.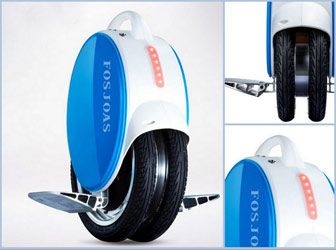 The second who walked into the store of Bruce was a young man. He looked 20 years old. He set out to buy an exquisite small gift for his girlfriend. However, his girlfriend was an energetic and liked sport. He started to hesitate and was left at a loss. Suddenly, his eyes were cast onto the FOSJOAS twin wheel electric scooters. A wise idea occurred to him that he had better buy this model. His girlfriend must love it. Having listened to Bruce, he bought it at once and left in delight.