New Functions Of Fosjoas Electric Self-balancing Scooters
Source:Fosjoas begin Time: 2016-03-03
As the FOSJOAS self-balancing electric scooter expend all over the world, the new usage and functions are more and more. Some use it as the entertainment vehicle and others use is as a channel for work-out. Today, Miss Dona will recount her experience concerning FOSJOAS electric self-balancing scooter. She is a buyer of an institution of science and technology. The institution is fairly large. It takes nearly one day to pay a whole visit to the establishment. Visitors are always making complaints about the large workplace. It usually wastes to commute between one workplace to another one.
In view of these facts, Miss Dona, working as a buyer of this firm, felts obliged to find a solution to this issue. At first, she turned to the private car. But it was not economical at all. One day, she came across FOSJOAS electric self-balancing scooter online. She found it would be what she wanted. She thought it could resolve the issue in her firm. Therefore she consulted the owner of FOSJOAS electric self-balancing scooter about related knowledge and parameters of electric scooter. She learned that this kind of electric scooter was eco-friendly and suitable for inner room and golf course-like occasions.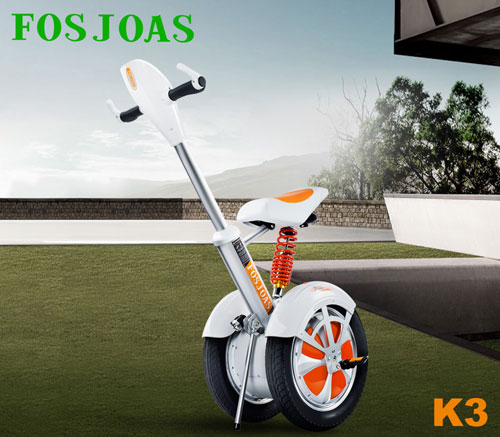 She made a bold decision on the spot, buying 20 sets of FOSJOAS two-wheeled intelligent scooters, FOSJOAS U3 and K3 included. The two-wheeled intelligent scooters were recommended by the owner strongly. These scooters are easy to ride and almost all can ride it as long as he stands on it. Unlike those single-wheeled intelligent scooter, such two-wheeled electric unicycle like U3 and K3 bring a lot of convenience to the riders. The workers and colleague of Miss Dona like them very much. One time, some visitors came to their firm and during the visit they thought highly of these kinds of electric self-balancing scooter. At the same time, they also had a good impression on the visit.