Marvelous Skidding Experience of Fosjoas K1 Electric Skateboard
Source:Fosjoas begin Time: 2016-03-09
Fosjoas, the leading brand in intelligent self-balancing unicycle sector, offers a magical skateboard and its full name is K1 electric skateboard. One of the most outstanding differences between Fosjoas K1 electric skateboard and ordinary skateboards lies in electricity-powered, which ensures labor-saving and comfortable skidding experience. Like other Fosjoas scooter types, K1 electric skateboard is also based on aerospace attitude control theory, fuzzy software algorithm and gyroscope system to keep balance. As long as riders stand on the board and slightly lean forward, the Fosjoas K1 electric skateboard will start to slide automatically. The sliding speed depends on the position of body gravity. If riders want to speed up, they just need to lean forward more.
When it comes to the appearance of Fosjoas K1 electric skateboard, its main colors are matte black and matte sliver. It seems as that is a little monotonous. Don't worry! Fosjoas K1 electric skateboard offers DIY stickers that can be pasted on the board. The DIY sticker can be printed with different colors and patterns, which makes Fosjoas K1 electric skateboard full of personality and also attracts many consumers. At the same time, the board comes from the hand of first-class designer in the world. Plus DIY sticker, Fosjoas K1 electric skateboard gives people a strong sense of high quality and high taste.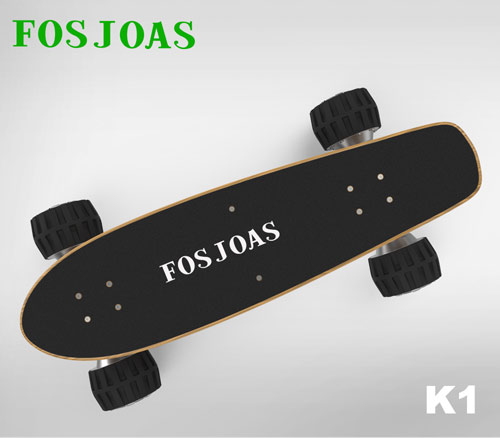 Fosjoas K1 electric skateboard gives full play to releasing the skidding desire of those skateboarding enthusiasts. Driven by lithium-ion battery, it saves physical strength for riders and lets them sliding for as long time as they want. What is more, the fully-charged Fosjoas K1 motorized skateboard offers 20km range. In other words, it is more than a tool that is exclusively designed for skateboarding. It also can be a transport for daily use, which is one of distinguished innovations of Fosjoas design team. All in all, Fosjoas K1 motorized skateboard is a user-friendly skateboard and transport.