Fosjoas V9 Two-Wheeled Electric Scooter Blends Melodious Music into Warm Spring Sunshine
Source:Fosjoas begin Time: 2016-03-12
Fosjoas is one of world-famous intelligent cheap electric unicycle brands and it offers many high-quality scooters for people from all walks of life. What is more, its electric scooters really facilitate people's life and make them enjoy their life. Take Fosjoas V9 two-wheeled electric scooter for example. In spring, riding it under warm sunshine and cool breezes is really enjoyable. What if people can listen to melodious songs at the same time? In fact, Fosjoas V9 two-wheeled electric scooter is truly able to make it.
Fosjoas V9 two-wheeled electric scooter is equipped with a closed stereo that has high-quality music playing function. If riders want to listen to melodious music, they can download loved songs and store them in cell phone in advance. Then, Fosjoas V9 two-wheeled electric scooter can be connected with the cell phone via the Bluetooth. During the riding process, riders can play the songs in cell phone through Fosjoas V9 two-wheeled electric scooter's stereo. Here is a beautiful picture. A young girl is riding Fosjoas V9 scooter along the seaside and she is wearing a pair of earphone. The breezes in the warm sunshine are soft and cool. She is so intoxicated and it seems as that the whole world belongs to her own.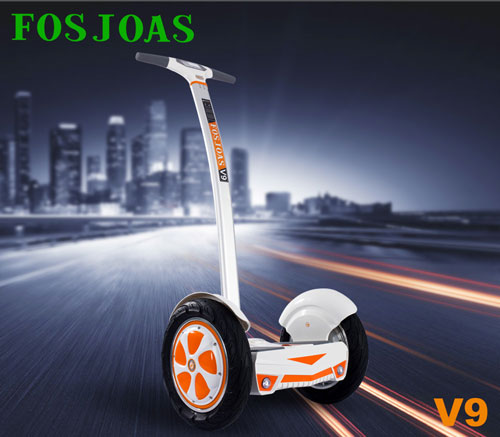 Besides fair-sounding music, Fosjoas V9 two wheel electric scooter has many other advantages. Easy riding and comfortable riding feeling comes very first. All controls, like moving forward, braking and changing direction, can be easily finished by adjusting body position. Meanwhile, riders can stop or go on riding anytime and anywhere, which gives them enough freedom. In addition, 520Wh lithium-ion battery ensures long range and lets riders enjoy spring as possible as they can. The last but not the least, eco-friendly Fosjoas V9 self-balancing scooter won't harm spring environment at all and thus it is a widely-suggested travel mode.