Fosjoas K5 2-wheeled electric scooter is a new member to Fosjoas
Source:Fosjoas begin Time: 2016-03-19
Fosjoas attaches great importance to customers sharing their using experience and personal tricks with friends and value their kindly advices and suggestions for continuous improvement of our products. Fosjoas K5 two wheel self balancing scooter is a new member to Fosjoas that has accepted the consumers' advice and suggestions. Fosjoas is dedicated to developing the most appropriate means to facilitate daily commuting with latest technology, which will be carried through its new product lines. By market investigation, Fosjoas K5 2-wheeled electric scooter is much more user friendly.
As many people have complained that the range of the current electric scooter can not meet their specific requirement. While, the battery of Fosjoas K5 folding electric scooters for adults is designed to be modular. It is placed in external that can be inserted and extracted. It only takes a few seconds to disassemble and replace battery without any tools. In this way, K5 standing up electric scooter will meet different needs. As long as Fosjoas provides backup battery sales, people can choose to purchase spare batteries. What's more, during the journey, high efficient USB power supply interface can meet the charging demands of mobile phone, Tablet, SLR and other daily smart devices.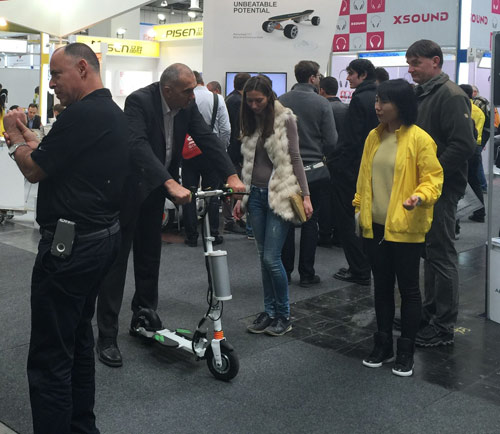 In addition to the considerate battery design, the adjustable operating rod of Fosjoas K5 lightweight electric scooters for adults ensures a comfortable riding, suitable for those between the heights of 1.5m to 2.1m. Specifically developed Fosjoas APP that can be connected to K5 anytime to know the speed, residual power and mileage etc. Of course, there are more design details for you to experience. In short, Fosjoas K5 2-wheeled electric self-balancing unicycle will always accompany with you anywhere to make you feel relaxed and comfortable. Though K5 is a new member to Fosjoas, it will become the new star soon.