Ride Fosjoas U3 SUV Electric Scooter to Challenge the Beautiful Spring
Source:Fosjoas begin Time: 2016-03-23
Among Fosjoas intelligent self-balancing two wheel electric scooter, U3 electric scooter is the best choice when it comes to challenging the nature, such as a spring outing, a trip in forest or desert, or a travel in countryside and so on. Now, it is good time to have a spring outing. The air is warm, the plants become green, stream is cool and flowers are booming. It is a beautiful season. Let's ride Fosjoas U3 electric scooter to blend into the beautiful spring.
People can play in spring at ease, which benefits from its equipped 680Wh lithium-ion battery. Generally speaking, the fully-charged Fosjoas U3 two-wheeled electric scooter is able to run 50km continuously. Therefore, people can stay in spring as long as they want. Meanwhile, people won't feel fatigued even if riding all the afternoon. It is because riding Fosjoas U3 electric scooter is relaxing. If people want to speed up, just lean forward. Similarly, leaning backward will slow it down. Besides, the two 16-inch tyres also play a key role. Big tyres pave the way for larger contact area with ground, which improves road holding ability and adaptability to difficult road conditions. As long as the road is wide enough, Fosjoas U3 electric scooter can take people to any place they desire, such as bumpy country road, tough mountain road, soft desert or hard gobi an so on.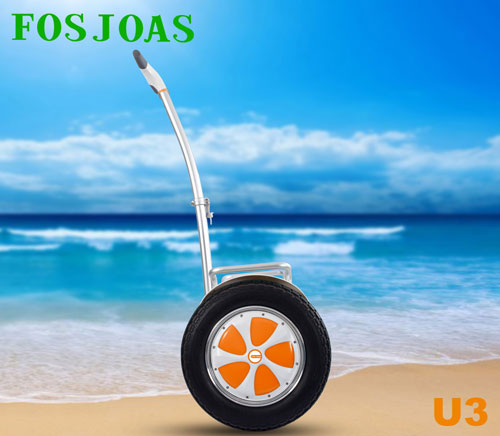 Different from private car and bicycle, Fosjoas U3 self-balancing scooter can take people to enjoy more magical and wonderful spring. In fact, it is more than spring. People also can ride it to challenge the nature in other seasons, such as the white snow in winter, yellow leaves in spring or cool breezes in seaside and so on. All in all, Fosjoas U3 SUV two wheel electric scooter unicycle offers people a different nature and they definitely will love it.