The Unforgettable Impression on Fosjoas K5 Two-Wheeled Electric Scooter
Source:Fosjoas begin Time: 2016-03-24
Fosjoas, the global leaning vehicle manufacturer, offers a brand-new intelligent self-balancing electric scooter to global consumers, which is Fosjoas K5 two wheel self balancing scooter. I ran into it on a big electronic exhibition and it left me an unforgettable impression. It represents the great technical breakthrough made by Fosjoas. Here, I want to share my personal first impression and riding experience with more people.
When it comes to the appearance of Fosjoas K5 two-wheeled electric scooter, one word can describe it, which is "fresh". It is made up of matte black pedals, handlebars and tyres, silver scooter body and green ornaments. As a whole, Fosjoas K5 two-wheeled electric scooter gives people a very fresh feeling. It is also equipped with a magical triple folding system and thus it can be folded into very small figure. Then, it can be easily taken into elevator, subway, public bus or even trunk of private car. I also have a test riding under the guidance of staff. The matte pedals and handlebars are very soft and thus won't make my feet and hands fatigued at all. When I slightly lean body forward, Fosjoas K5 electric scooter moves forward automatically. Frankly speaking, it won't cost me any physical strength during the riding course.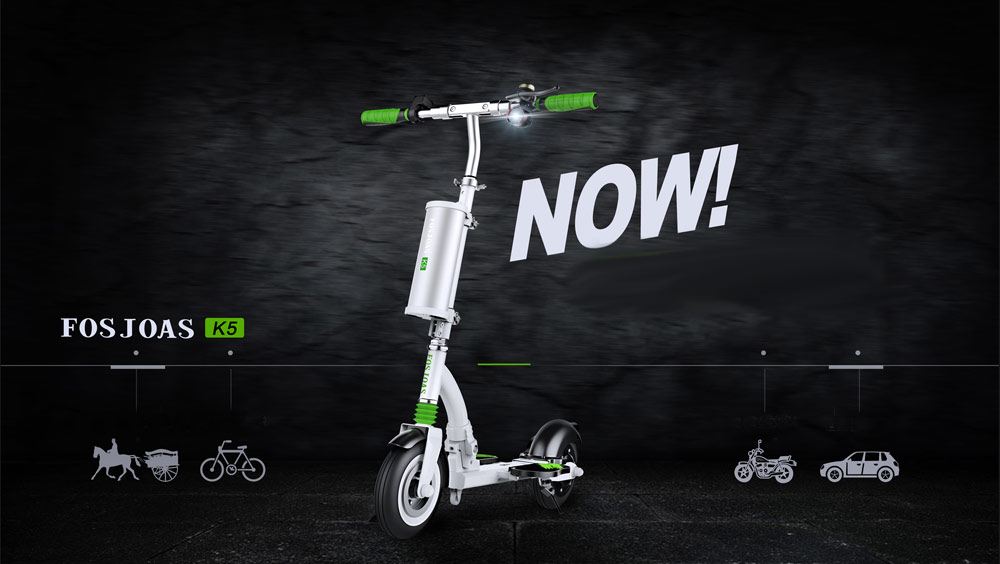 In addition, Fosjoas K5 electric scooter also has several user-friendly design details. The battery of Fosjoas K5 unicycle electric adopts module design and is pluggable, which makes unlimited range be possible. Meanwhile, it is also equipped with USB power supply interface and supplies power for cell phone, iPad or digital camera. Such a design is widely approved by most of consumers. The eye-catching LED taillight largely ensures riding safety, especially in dark night. In addition, the exclusively-designed APP is able to express the current states of Fosjoas K5 electric scooter, such as riding speed, remaining battery, riding trajectory path or total mileage and so on.