Fosjoas K5 electric standing scooter comes out and cuts a conspicuous figure
Source:Fosjoas begin Time: 2016-03-25
The appearance of intelligent electric scooter brings convenience to people for their daily commuting. Among so many competitors, what will be the advantages for the new product Fosjoas K5 electric self-balancing scooter? K5 owns the perfect combination, modular battery design, chargeable port of battery, LED taillight and the S-shape design of head etc. Fosjoas sets out from customers' need and continues to improve to create exquisite products and K5 is one of the good examples.
Fosjoas K5 2-wheeled electric scooter is named the folding expert and this kind of titling lives up to expectations. Triple folding system enables K5 easy to be folded. Different from other vehicles, K5 can be taken into buses, subways or car trunks. It covers just a little space. Due to the folding system, it can smoothly move both indoors and outdoors. The unfolded pedals provide the comfortable anterior standing posture and the control levers can be adjusted to the position which is more suitable for riders' status.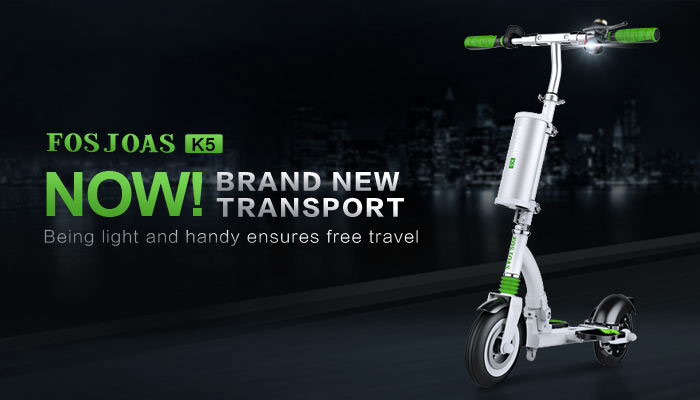 Along with the special pony wheel, K5 lightweight electric scooter for adults becomes much easier to carry. With the small volume and light weight (only 11.6kg), people has no pressure to hold it. As for the security issue, K5 electric scooter Street Legal has sixfold protection. Golden division ratio design for K5 has the excellent performance in control-ability and stability; brake assist system can increase the braking power so as to cut down the braking lengths when riders carry out braking action in emergency condition; anti-slip/explosion-proof tyres and special tire with concave and convex texture design also increase the security grades.
Inheriting the shock absorption system of professional ATVs, K5 electric unicycle self balancing scooter makes special optimized prepressing to city road surface and then guarantees a comfortable ride even if it is rough roads.