Fosjoas K1 Electric Skateboard Fully Satisfies Skateboarding Enthusiasm
Source:Fosjoas begin Time: 2016-04-05
Skateboarding is a kind of interesting and exciting sport and it is quite popular among young people. Traditional skateboards mainly rely on physical strength to realize all controls. Although skateboarding is an excellent experience, it still makes skateboarders fatigued after long-time playing. In order to change current situation, Fosjoas R&D team has designed a brand-new skateboard, which is K1 electric skateboard. Compared with traditional ones, Fosjoas K1 self-balancing scooters can fully satisfy people's skateboarding enthusiasm.
As a leaner, a big open ground, like playground, park and square, had better be chosen. In fact, it doesn't need too much time to learn how to control Fosjoas K1 self-balancing skateboard, because it can keep itself balanced automatically on the basis of aerospace attitude control theory, fuzzy software algorithm and gyroscope system. Briefly speaking, changing body gravity is able to finish all controls. For example, leaning forward realizes moving forward, while leaning backward realizes slowing down. After an afternoon exercise, people can play Fosjoas K1 self-balancing skateboard anywhere and anytime. Meanwhile, lithium-on battery-powered Fosjoas K1 self-balancing skateboard saves people too much physical strength. Thus, even skidding for several hours won't make them fatigued at all, which can fully satisfy the inner skateboarding enthusiasm.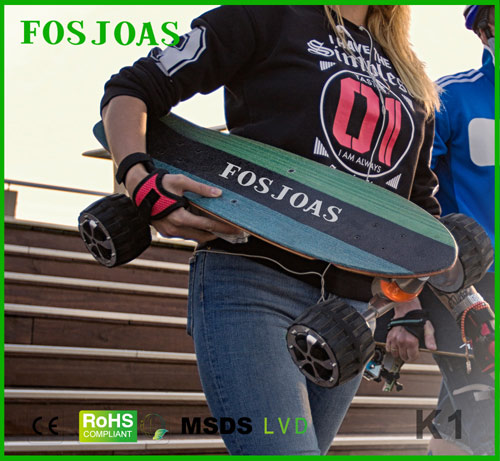 Fosjoas K1 cheap electric skateboard is made up of four high-quality tyres, handmade Canada maple board, two PU high-elastic damping blocks and a 2.4G wireless remote control. Then, skateboarding becomes safe, easy and enjoyable. Therefore, even some elder people who love exercise are willing to have a try on Fosjoas K1 skateboard, too. In addition, Fosjoas K1 skateboard also advocates environmental-friendly travel. In general, fully-charged Fosjoas K1 skateboard is capable of skidding for 20km. It is more than a tool for skateboarding, but also a transport for covering some light travels. Lifestyle in modern times becomes much healthier and more colorful, and Fosjoas K1 skateboard plays an important role.