Fosjoas K5 Electric Standing Scooter, the Blessing to Travels on Holiday
Source:Fosjoas begin Time: 2016-04-11
On holiday, many people prefer to go out and relax themselves from hard word when enjoying beautiful scenery and delicious delicacy. Oftentimes, they would like to drive private car. As economic capacity of most people is increasing, owning a private car for every family becomes possible. Then, traffic jam on holidays becomes more and more serious. The travel mood will be totally destroyed if being stuck halfway for several hours. Fosjoas K5 standing electric scooter becomes the blessing to both short-distance and long-distance holiday travels.
The battery unit of Fosjoas K5 two-wheeled electric scooter is replaceable, which makes long-distance travel be possible. The precondition is taking enough spare batteries. In the meantime, the figure of Fosjoas K5 two-wheeled electric scooter is much smaller than that of bicycle and thus it can easily weave through crowds. In other words, traffic jam is never the problem of Fosjoas K5 two-wheeled electric scooter. What is more, it also offers comfortable riding experience. It is well-known that all Fosjoas intelligent self-balancing electric scooters can keep themselves balanced automatically by relying on aerospace attitude control theory, fuzzy software algorithm and gyroscope system. As long as riders slightly lean forward, Fosjoas K5 two-wheeled electric scooter can move forward automatically. Maybe, driving an hour makes people fatigued, but riding Fosjoas K5 scooter won't make riders tired at all.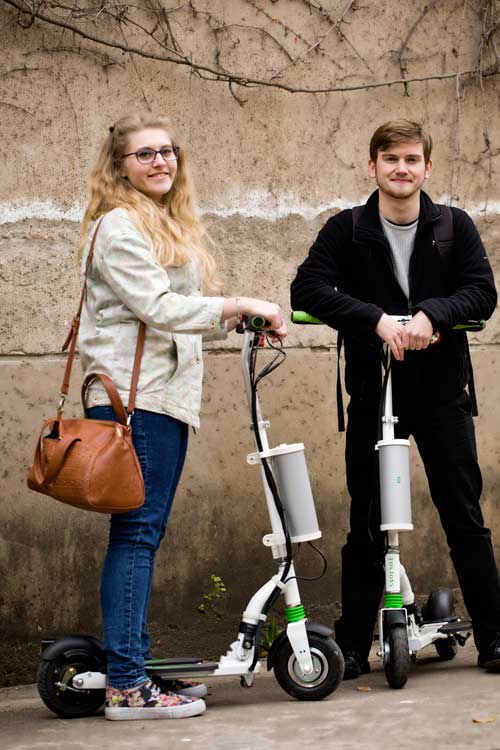 On holiday, people can ride Fosjoas K5 two wheeled electric scooter to beautiful countryside and take photos for pretty nature with cell phone or digital camera? However, what if cell phone or digital camera runs out? Don't worry! Fosjoas K5 self-balancing scooter is equipped with high-efficiency USB socket, which can charge any smart devices anytime and anywhere. Now that every country gives holiday to its civilians, they had better use it to relax themselves and don't need to take too much luggage. Riding Fosjoas K5 scooter to enjoy holidays is an excellent choice.