Fosjoas U1 Mini Self-Balancing Scooter Accepts My High-Heeled Shoes
Source:Fosjoas begin Time: 2016-04-11
I can say that I am a white-collar in big city. Everyday, I drive my mini Cooper to go to company on workdays while to meet my girls on weekends. Besides serious traffic congestion, I have to change my high-heeled shoes with flat shoes considering driving safety. Actually, I am a big fan of high-heeled shoes. Besides driving a car, I also have to change shoes when I ride bicycle or other transports. Since I have bought Fosjoas mini self-balancing electric unicycle by chance, I finally find a transport that can accept my high-heeled shoes.
As its name implies, Fosjoas U1 mini electric scooter enjoys very small figure. However, it has two big enough pedals that are made from soft natural rubber. Even if I stand on pedals when I wear high-heeled shoes, my feet feel very comfortable. It seems as if I stand on comfortable sponge. For an enthusiast of high-heeled shoes, Fosjoas U1 mini electric scooter is really a great blessing. In addition, the adjustable saddle is another excellent design for me. If I stand to ride it, I will adjust the saddle to the lowest point. When I feel a little tired, I will adjust saddle to the most comfortable point according to my height. Then, I can ride it by sitting-posture riding mode.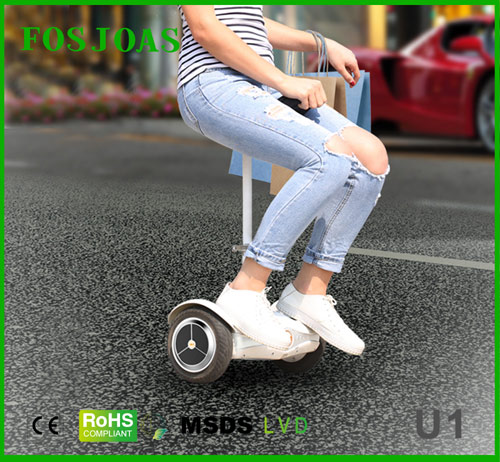 Since I owned Fosjoas U1 electric scooter, my life really becomes easier and happier. I can go to anywhere and anytime and don't need to worry about traffic jam, car crash or being late any more. The small Fosjoas U1 electric scooter can take me to many narrow places and I don't fear of little lanes or corridors. The most important is that Fosjoas U1 self-balancing scooters accepts every pair of my beautiful and loved high-heeled shoes. In the future, I can buy more high-heeled shoes without scruples.