Andre is rapt in Fosjoas K1 electric skateboard.
Source:Fosjoas begin Time: 2016-04-16
Through market investigation, Fosjoas observes that among so many kinds of extreme sports, skateboarding is widely played by the geek and the young users account for the majority of skateboard riders. To the youngsters, the featureless and dreary things are not their taste. Andre who is a professional skateboard player now is rapt in Fosjoas K1 electric unicycle. To Andre, Fosjoas K1 wireless remote control skateboard is reminiscent of childhood.
How can you effectively turn a form of entertainment into a vehicle, enhancing its fun factor while at the same time making it a unique way to get around? Fosjoas K1 kills two birds with one stone. Fosjoas K1 maple electric skateboard overtakes the traditional skateboard in respect of performance and design, even though it bears resemblance to the traditional skateboard in the externality. Powered by electricity instead of physical power, Fosjoas K1 lets Andre fully enjoy the fun and excitement of skateboarding.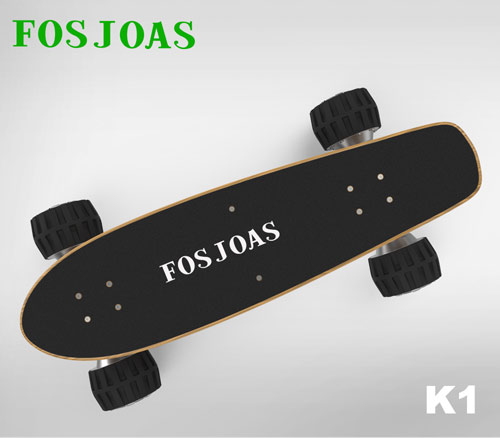 At the same time, the Fosjoas K1 wireless remote control skateboard can be transformed into a kind of transport. Playing the traditional skateboard, Andre usually felt tired after an hour-long ride. The resulting fatigue may put a dent in the fun and enjoyment of skateboarding. What's more, the double chip that controls all its functions not only ensures that all movement are always smooth and responsive to riders' commands, but also optimizes consumption for energy accumulated in the batteries.
In addition to the design of battery group, Andre cotton on to the fashionable stickers that can be changed according to his likings and tastes. There is a rich selection of beautiful stickers provided by Fosjoas. As we know, the youngsters go after trend and long for individuality. As a result, Fosjoas innovatively issues many stickers intended for these users. The frequent change in the stickers gives impression that he is always riding a new K1 cheap motorized skateboard.