Fosjoas all-terrain vehicle-U3 2-wheeled electric scooter
Source:Fosjoas begin Time: 2016-04-19
Among several of electric self-balancing scooter, the Fosjoas U3 two wheel self-balancing electric scooter has gained the global invisibility. Compared with other two-wheeled scooters such as V9 and U1, Fosjoas U3 is more like a tough person in the large family. Fosjoas U3 also named all-terrain vehicle because of the following reasons. To begin with, Fosjoas U3 two wheel self-balancing electric scooter is equipped with the more powerful battery group. The potent battery group offers Fosjoas U3 the thrust stronger than Fosjoas V9 2-wheeled electric scooter and U1 saddle-equipped electric scooter. The top speed of Fosjoas U3 can reach as much as 18 km/h. The maximum range attains 50 km on a full charge, which vary, from the road conditions and riders' weights.
High energy and high quality core guarantee durability and stability at low temperature. High discharge rate greatly reduces the number of charging and discharging cycles, thus extending battery life to 5 years. Coupled with upgraded CPU, Fosjoas U3 2 wheel balancing electric unicycle has stronger driving force and acceleration 0.03s precise and rapid reaction time. The bumper strip is set at the back of the handlebar to effectively avoid scratch and abrasion when parking U3 against walls.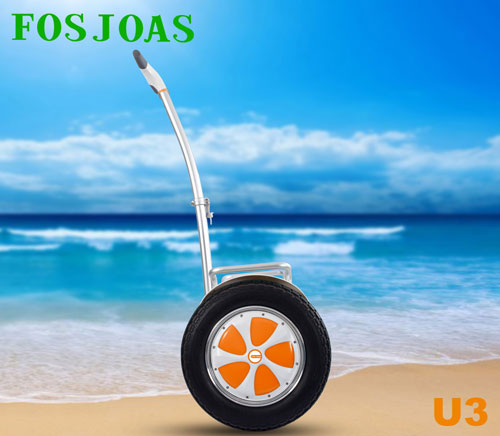 Since Fosjoas U3 is positioned as the personal ATV, it is proper and right for Fosjoas two-wheeled intelligent scooter U3 to get necessary equipment. By means of the threaded design, the two jumbo tyres enable U3 self-balancing two wheels scooter to easily negotiate some tough terrains. In addition to these tough terrains, U3 intelligent electric scooter can go down the steps with no hitch.
Once it rains, there are many puddles. U3 self-balancing electric unicycle is waterproof and dustproof and can be ridden in the drizzle. When U3 drives past it, the muddy water may spatter over its bodywork. In order to shield Fosjoas U3 from the dirty water, Fosjoas U3 intelligent electric scooter exclusive fender holder is made of special aviation aluminium being lighter and more durable with greater holding capacity.