To discuss the selling-points of Fosjoas K3 saddle-equipped electric scooter
Source:Fosjoas begin Time: 2016-04-23
For the loyal fans of Fosjoas self-balancing electric scooter, they are familiar with its performance, speed, maintenance and repair better than the common players. Alan becomes a fan of Fosjoas since its foundation in 2010 who gets a better understanding of the Fosjoas intelligent self-balancing scooters like V9, U3 and K3. Today, he will specify the selling-point of Fosjoas K3 sitting posture self-balancing scooter. Fosjoas K3 is hailed as the one model that wraps all advanced technology and design into it.
Fosjoas made a historic achievement-it created the sit-on mode of ride in Fosjoas K3 saddle-equipped electric scooter. The previous models belong to the stand-on mode of ride, no matter the single-wheeled electric scooter V6 or the twin-wheeled electric scooters V2, V3 or V5. When riders cover a long distance, they will feel the fatigue. While, Fosjoas equipped K3 2-wheeled electric scooter with the leather saddle to alter the discomfort and fatigue.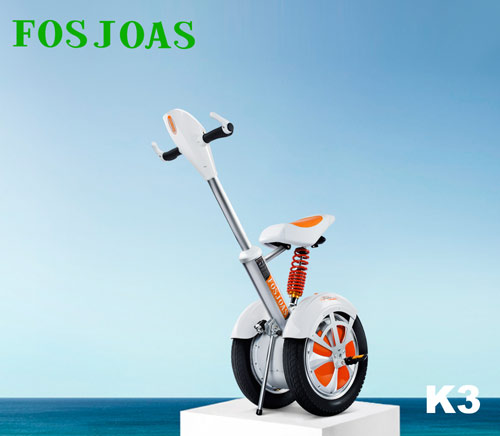 Another selling-point is its ability to connect to APP. These days, our mobiles are filled with a variety of Apps, ordering meals, cars, hotels and others. This is an era of the mobile phone. Fosjoas also flows with the trend by introducing the function of connecting Fosjoas intelligent electric scooter to the mobile phone via APP downloaded online. Especially for those young men who are into the latest technology, they see this function in Fosjoas K3 electric scooter with seat.
Also, Fosjoas K3 sitting posture intelligent cheap electric unicycle pays attention to details, such as the hydraulic suspension, original automatic steering-sensor system and electronic brake system etc. With the hydraulic suspension, the rider will not be affected by the bumpy roads, which will effectively buffer the impact. Iridescent light gives you full personality pulse notification light ensures a safe night riding; Braking is achieved through electric control instead of mechanical drive, making the braking instant, accurate and safe.