About the usage of Fosjoas electric self-balancing scooter
Source:Fosjoas begin Time: 2016-04-26
Fosjoas self-balancing two wheel electric scooter are used frequently and widely all over the world. Fosjoas intelligent electric scooter is dedicated to developing the most appropriate means to facilitate daily commuting with latest technology, which will be carried through Fosjoas new product lines. The usage of Fosjoas electric self-balancing scooter will be illustrated. Some take is as commuting tool, some use it for the commercial publicity and others for the recreational purpose. Of course, there are many other innovative applications in various fields.
From the function of transportation, Fosjoas self-balancing electric scooter, featured by small size and flexibility, has been widely used by a host of workers. When you are still complaining about traffic congestion, others may have well entered into a traffic-free lifestyle. Fosjoas self-balancing electric scooter is the most portable and the greenest new form of transportation, which has quickly emerged as a must-have gadget among the young and the young hearted.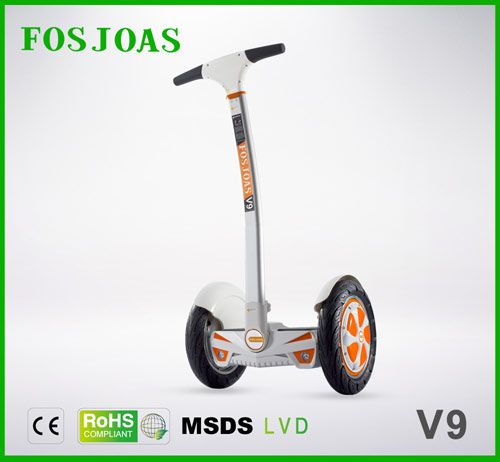 For the commercial publicity, Fosjoas intelligent electric scooters have helped many enterprises gain more visibility and enhance its brand publicity. In addition to that, Fosjoas can be applied in the spacious golf course or large plant. In order to beef the work efficiency, they introduced Fosjoas V9 self-balancing 2 wheels scooter. The ten two-wheeled self-balancing scooters turned around the awkward situation. Now the job of these caddies is rather effortless. In large plant, because of the large area, some visitors are tired during visit. Now each time visitors come to plant, they will make some compliments on the Fosjoas electric scooters.
To achieve the recreational purpose, some models of Fosjoas, for instance, the Fosjoas V9, U3 two wheel self balancing scooter and K3 sitting posture self-balancing scooter have been equipped with incredible speaker system, capable of transmitting clear, undistorted sound, using Bluetooth connectivity to your Smartphone, allowing you to listen to your favourite music tracks without having to wear uncomfortable earphones.