One of consumers' feedback on Fosjoas self-balancing electric scooter
Source:Fosjoas begin Time: 2016-04-28
Now, Fosjoas self-balancing scooters have been spread all over the world. Its hard work has borne fruit. Let us see one of consumers' feedback on Fosjoas self-balancing electric scooter. With the intention of bringing happiness to them and sharing the fun with them, Fosjoas attaches great importance to the consumers' feedback. In Fosjoas, it is the unswerving service principle to be attentive to every advice and feedback from customer or end user.
The consumer wrote in the email to Fosjoas describing it and its usage in detail. And Fosjoas appreciates these feedbacks very much. This consumer talked about her experience with Fosjoas V9 pushed out in the year of 2015. The dashing exterior and innovative design took her aback. When she bought it, the Fosjoas V9 2-wheeled electric scooter is well acclaimed among her friends and family members.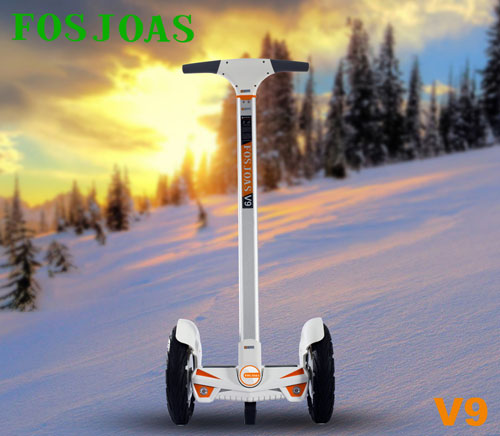 The frame of Fosjoas V9 intelligent electric scooter is made of aluminium alloy, which is light and hard, and has good shock absorption ability. Closed stereo with high quality music, she can enjoy music whenever and wherever through the built-in wireless interface. Stoplights makes early alert to others. Through balancing chip double backup technique, even if one chip fails, the other balance chip system will immediately take over the work, to ensure its security. At the same time "beep" sirens prompts users timely maintenance. Double battery intelligent protection system protects the power system; Even if one system appears problem, the other system can ensure the whole electricity core is stable and safe in riding.
The Fosjoas V9 two wheel balancing electric unicycle is not only her commuting tool, but also her family members' entertainment way. No matter for the senior citizens or the adolescence, Fosjoas V9 electric self-balancing scooter will be their ideal plaything and tool to enrich their daily life. She expressed her gratitude to Fosjoas and was looking forward to more amusing products.