Lindsay's right hand in visiting trade show - FOSJOAS two-wheeled intelligent scooter U3
Source:Fosjoas begin Time: 2016-05-04
The whole year's work depends on a good start in spring. In the spring, there are a great number of exhibitions in many countries and regions, dealing with many scopes, for example electronics, industry, video game and so on. Lindsay works in a foreign trade company and attends kinds of trade shows regularly. FOSJOAS U3 two wheel self balancing scooter is her right hand. These days, the trade shows are more and more. The current trade show halls are typical large and spacious. Lindsay has to attend many trade shows each year for the purpose of business.
A complete tour surely exhausts the visitor. Lindsay shares with us her visiting experience with FOSJOAS U3 double-wheels electric scooter. Lindsay will attend a large and massive exhibition concerning electronics. She expertly steers FOSJOAS U3 electric self-balancing scooter through numerous booths and the crowded. Because she stands on the board of FOSJOAS U3, it offers her a better view. She can see more booths and the products exhibited in the booths.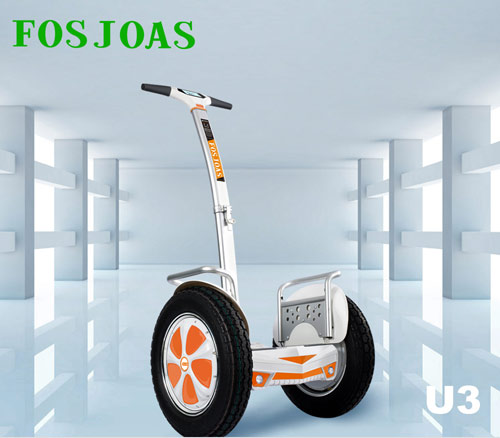 In the afternoon, though Lindsay rides half a day, she does not feel tired at all. She still visits every booth with patience and interest. Lindsay is grateful to FOSJOAS U3 and she even becomes fond of attending exhibitions, as FOSJOAS U3 two wheel self-balancing electric scooter turns a laborious thing into an effortless and interesting one.
During her ride, a lot of visitors cast their eyes into her. U3 is adopting aerospace attitude control theory with metal bracket, bold and confident as a Lamborghini. They feel the innovative application of such electric scooter. For rider's convenience, FOSJOAS U3 intelligent electric scooter is equipped with a 4 inch LED screen to display more information including speed, temperature, battery level, mileage, etc. this is Lindsay's right hand in visiting trade show - FOSJOAS two-wheel electric self-balancing scooter U3.