Fosjoas K1 Electric Skateboard Ignites the Passion in Life
Source:Fosjoas begin Time: 2016-05-05
In modern times, the life tempo is much faster and the pressure from society and family is much heavier and traffic is much more congested, which result in tedious life. Gradually, people don't longing for beautiful life any more. On weekends or holidays, they prefer to stay at home. That is not right. The truth of life is to enjoy life. In fact, people just need a thing to ignite the life passion again and Fosjoas K1 electric unicycle self balancing scooter can make that come true.
Fosjoas K1 motorized skateboard is a brand-new star in skateboarding world, which is totally different from traditional physical strength-powered skateboards. Just as its name implies, it is powered by lithium-ion battery and thus skidding becomes relaxing and enjoyable. The four high-quality tyres as well as equipped high-elastic damping blocks offer very comfortable and stable skidding. What is more, slightly leaning forward, backward or turning body to different directions can realize different controls, such as speeding up, slowing down, braking or changing direction. Therefore, Fosjoas K1 electric scooter is designed for all people.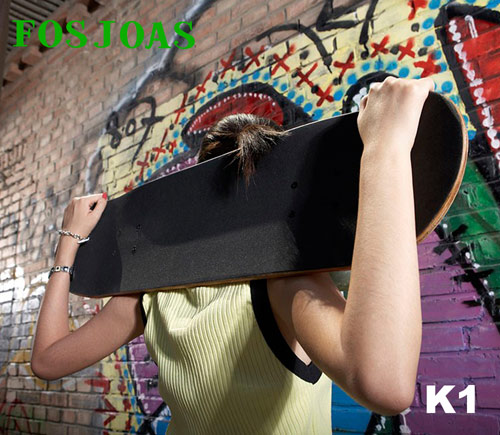 In people's leisure time, people can stamp on Fosjoas K1 wireless remote control skateboard and go to beautiful countryside to thoroughly relax themselves. People also can ride it and weave on an open square or street freely. The elderly even can use it as an exercise equipment so as to have a strong body. On workdays, it even can be a commuting transport for people, which not only avoids traffic jam in rush hours, but also saves valuable time.
All in all, Fosjoas K1 discount electric skateboards acts many different roles in people's life. It can be a plaything in leisure time and also a tool in daily travels. More importantly, it is able to ignite the life passion and make life much more wonderful.