Fosjoas K1 Motorized Skateboard Records Beautiful Childhood Memory
Source:Fosjoas begin Time: 2016-05-06
The childhood of parents, grandparents and great-grandparents is very hard. They even can't eat full, let alone different kinds of playthings. Nowadays, the economy has progressed greatly, which fully improves the life quality of people. When it comes to playthings of kids now, they are too numerous to count. Recently, more and more kids are infatuated with Fosjoas K1 kids electric unicycle. Truly, it is really a great playmate that will record the beautiful childhood memory of kids.
It is well-known that kids have limited physical strength and thus they can not control traditional skateboards very well. However, they can slide Fosjoas K1 electric skateboard at will. For one thing, it keeps itself balanced by relying on aerospace attitude control theory, fuzzy software algorithm and gyroscope system, which makes kids play Fosjoas K1 electric skateboard freely. As long as they stand on the board and slightly lean forward, then, Fosjoas K1 electric skateboard will move forward automatically. Its speed is controlled by the intensity of leaning forward or backward. For another thing, Fosjoas K1 electric skateboard enjoys the maximum speed-20km/h, which largely ensures the safety of kids. Besides, the high-quality and wide types, the high-elasticity damping blocks, imported board material and convenient 2.4G wireless remote control make Fosjoas K1 electric skateboard a safe and interesting plaything for kids.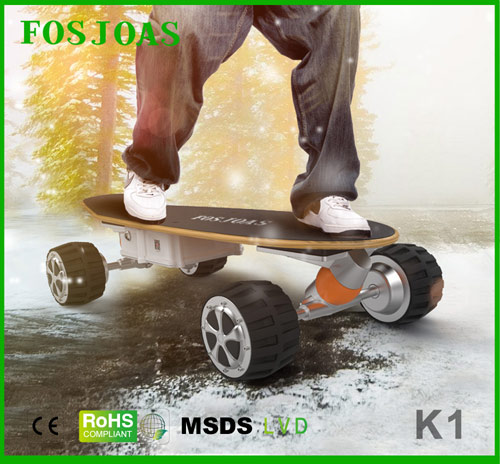 Besides high safety and other performances, Fosjoas K1 complete skateboard also enjoys other features that attract kids badly. DIY sticker comes very first. Kids can design their loved patterns according to their own tastes, such as Spider Man, the Hulk or Captain America and so on. Then, their skateboard is full of personality. Cool appearance absolutely will improve kids' confidence. The board made by Canadian maple and crafted by world-class designer really makes Fosjoas K1 balancing electric unicycle different. It is undoubted that Fosjoas K1 skateboard must be an excellent playmate of every kid.