How much do you know FOSJOAS K3 two-wheeled intelligent scooter?
Source:Fosjoas begin Time: 2016-05-20
How much do you know FOSJOAS K3 saddle-equipped electric unicycle? It is the first saddle-equipped electric scooter in FOSJOAS, which opens a new front for the electric scooter industry. It has passed more than a year since its international debut. With the light and thin magnesium aluminium alloy frame and colourfast shell made of Nano mixed materials, FOSJOAS K3 is polished and scratch-proof.
Controlled by user's body inclination, FOSJOAS K3 electric walkcar features a quick reaction time of 0.03s, fine-tuned for instantaneous and intuitive control. One of the most important features of FOSJOAS K3 hinges on the sitting posture, instead of standing postures. The sleek saddle in V-shape is designed under the ergonomic principle, offering more comfortable ride than the traditional standing wheeler does. What's more, the tone of white and orange represents sporty and joyful elements. Premium quality and trendy design make you stylish.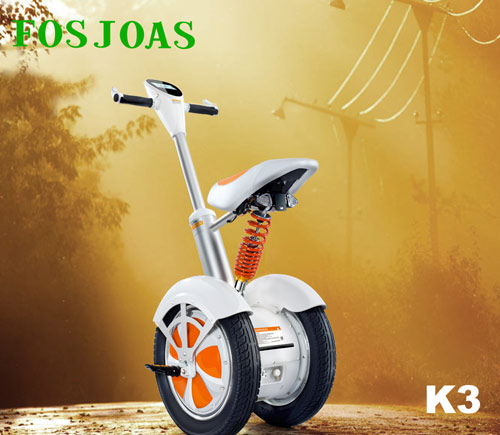 Also, the App makes FOSJOAS K3 2-wheeled electric scooter outstanding. Nowadays, we can order meals on APP, book the hotel on APP and even make transactions on APP. FOSJOAS K3 can be connected into the mobile phone of the owner. The APP especially used for FOSJOAS K3 is complete free. Via the APP, riders have a go at the function of lock/unlock. At the same time, the APP has the ability to locate the FOSJOAS K3. Moreover, other functions like speed limit and overall data of status of the scooter also appeal to riders.
Other than that, the latest maglev technology applied in motor enables a non-bearing and non-radial load design so that a wearing part is omitted. In other words, the motor is more durable. Moreover, the dedicated LCD panel makes for a perfect riding and gives an overall information about the scooter condition. With four-fold protections, FOSJOAS K3 self-balancing electric scooter is to safeguard your every riding, including speed limit protection, low battery protection, tilting protection and beep alert to minimize the risk of potential injury caused by improper use.