FOSJOAS K1 electric skateboard brings exhilarating riding experience.
Source:Fosjoas begin Time: 2016-05-21
FOSJOAS K1 self-balancing electric unicycle brings exhilarating riding experience. Rolled out last year, FOSJOAS K1 wireless remote control skateboard has captured much attention from the public. Akin to the traditional skateboard, FOSJOAS K1 motorized skateboard owns its features. It shares the same exterior design with the traditional skateboard. The added motor and battery make it different from the conventional ones.
The most important part of the skateboard is the board itself. Many people have different ideas about how long or how wide the skateboards should be or what the experience should be. This confused us for a little while. And one of partners gave FOSJOAS design team the idea of using a classic skateboard design, which FOSJOAS design team decided to go with to appeal to the widest audience possible.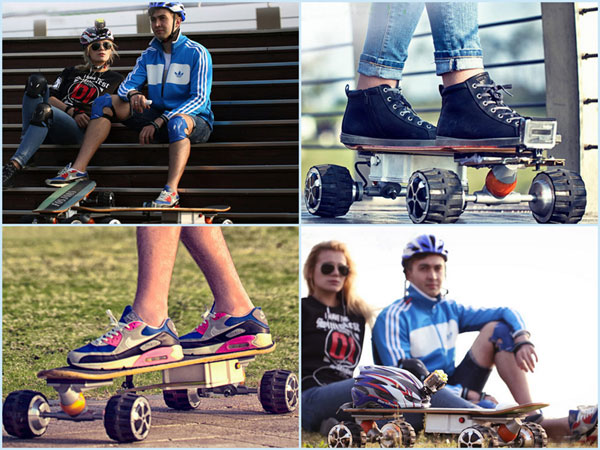 FOSJOAS design team endows K1 maple electric skateboard with DIY attribute. That is, you can modify the panels, the wheels. You can modify the battery. If you want to make your board cooler, you can also paint it or add stickers. If the ranges are not up to expectations, you can even change the battery. So it is just very unique, a personalized board.
However, some admired the wireless remote control the most. The newly released electric skateboard K1 can be controlled via remote controller. During ride of wireless remote control skateboard FOSJOAS K1, the speed of FOSJOAS K1 is adjusted via a remote controller. The technology of wireless connection control is introduced in it. The wireless connection can reach the range of up to 10 metres. Even there is a wall in front of the remote controller, it can still penetrate the wall and control the FOSJOAS K1 wireless remote control skateboard as long as K1 is within the range of control.
With the above mentioned features, FOSJOAS K1 cheap electric skateboard will bring riders an exhilarating experience.