Get rid of heavy pressure via riding FOSJOAS self-balancing electric scooter
Source:Fosjoas begin Time: 2016-05-24
Nowadays, a great number of pressures have come into being, with the development of the society. How to release the pressure to obtain a healthy life is much important for us. Pressure, which looks hard to get rid of, can be relieved through a variety of methods. Riding FOSJOAS two-wheel electric self-balancing scooter is also one of the effective ways.
Riding FOSJOAS provides them with a complete different way of electric scooter riding, and it is the first time that riding is closely connected with entertainment and enjoyment. In FOSJOAS, there are diverse self-balancing electric scooters from the single-wheeled electric scooter, twin-wheeled electric scooter, to 2 wheel self-balancing electric scooter, and they are all up to the international standards. You can feel rest assured that the quality of FOSJOAS is trust worthy which have gained many international certifications, such as CE, LVD, EMC, ROHS, UN38.3 and MSDS etc.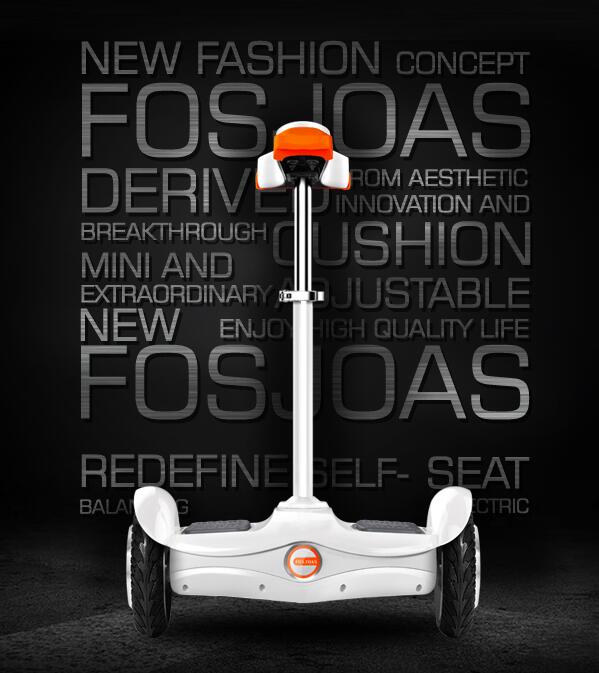 In addition, riding FOSJOAS can be personalized and creative. Some people depend on FOSJOAS for daily commuting; some people do morning exercise with FOSJOAS self balancing scooter uk; some play with the scooter in leisure time and some will ride FOSJOAS for work purposes, such as the patrol and work inspection etc. Actually, FOSJOAS has played multiple roles in people's daily life.
It is a wonderful experience riding FOSJOAS in a park or near a lake after a whole-day laborious work, and totally enjoys the carefree riding experience forgetting the pressure from work and life. At this moment, FOSJOAS will become a loyal and considerate friend and will accompany people all the way like a closest friend.
People need a way of relaxing themselves and relieving themselves from the stressful work life. Physical relaxation will have the huge help to the mental relaxation. Sharing our stress with others can be enormously helpful. Making time for fun such as listening to music may be good medicine. If these do not work, try FOSJOAS intelligent self-balancing scooters.