Dennis's experience with FOSJOAS K1 motorized skateboard
Source:Fosjoas begin Time: 2016-05-28
FOSJOAS keeps on innovation and upgrading the design to satisfy more individuals' requirements by releasing a variety of intelligent self-balancing electric scooter. FOSJOAS K1 wireless remote control skateboard is a brand new model diametrically different from other models. The design philosophy of FOSJOAS K1 motorized skateboard is to provide diversified choices, as it is not only a new type of transport in the intelligent transportation, but also a toy can make people find exclusive fun no matter for geek players or beginners. And this concept can be incorporated in every aspect of people's life. As an electric skateboard fan, Dennis ordered one set of FOSJOAS K1 online.
At first sight, K1 maple electric skateboard bears a strong resemblance to the traditional skateboard. However, FOSJOAS makes some breakthroughs, which make K1 stand out from others. FOSJOAS K1 wireless remote control skateboard is the newest product released by Moben in 2015. For Moben, it has released several kinds of self-balancing electric scooters based on the gyroscope principle in the concept of "travel freely and clean energy."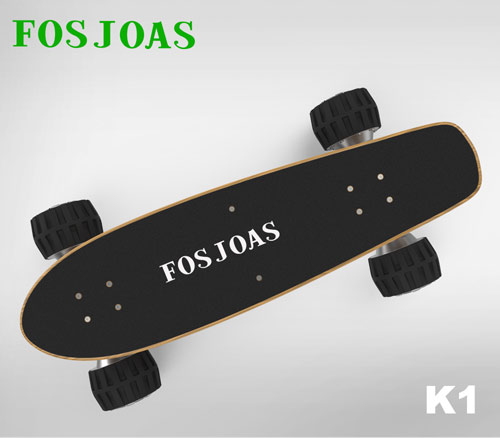 The emergence of FOSJOAS K1 self-balancing scooters are a breakthrough by adopting the advantages of lithium battery and electrical and mechanical structure without taking the self-balancing techniques. Dennis feels the effortless ride during the ride. In the process of ride, Dennis is not tired and therefore he can enjoy the ride to his heart's content.
Furthermore, Dennis can control the speed of FOSJOAS K1 maple electric skateboard via the 2.4G remote control. The wireless connection can penetrate the wall and the effective distance reaches 10 meters. Another draw of FOSJOAS K1 is that players can paint it or change stickers of the board. Even you can change the battery or tires according to your own requirements. The DIY attribute appeals to Dennis most.
In a word, FOSJOAS K1 cheap electric skateboard is a brand new electric skateboard to spread the values—tech, life, happiness.