How Could You Fall in Love With Rain? Fosjoas V3 Twin-Wheeled Electric Scooter Tells You!
Source:Fosjoas begin Time: 2016-05-31
A lot of people hate rainy days. The main reason is too loathsome travel. It is found that traffic on rainy days is much more congested and traffic accidents are much more than usual. Is there a safe and convenient travel mode on rainy days? The answer is "YES". The one that can help people travel safely and freely must be Fosjoas V3 self-balancing two wheel electric scooter. What is more, it lets people feel the unique beauty of rainy days and makes them fall in love with rain. The following tells you how.
If you have a little knowledge about Fosjoas, the leading brand in intelligent electric scooter sector, you must know that all Fosjoas electric scooters keep themselves balanced by adopted aerospace attitude control theory, fuzzy software algorithm and gyroscope system, which paves the way for easy control. Briefly speaking, slightly turning body to different directions will realize different controls. For example, leaning forward means speeding up, while leaning backward means slowing down. Turning left will change direction to the left side. Therefore, riding Fosjoas V3 twin-wheeled electric scooter is free and relaxing.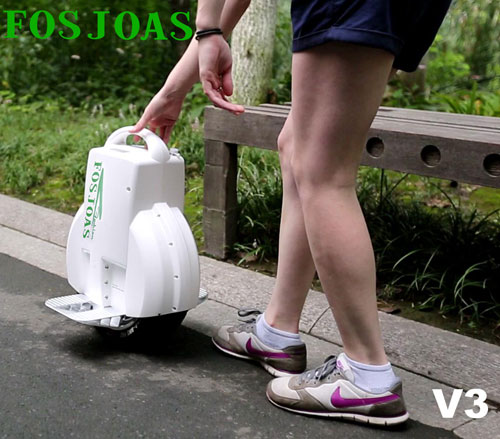 If you want to ride Fosjoas twin-wheeled v3 self-balancing electric unicycle freely on rainy day, you still need another equipment, which is a suit of raincoat. The raincoat in bright color will be better if you want to be outstanding among crowds. You can ride such a little figure and weave on road happily. Many people who drive car and are stuck by traffic jam or wait for public bus will envy you. In addition, you don't need to worry about that Fosjoas V3 twin-wheeled self-balancing scooter may run out half way, for its maximum range is 65km. Therefore, daily travel demands on rainy days can be satisfied perfectly. Fosjoas V3 scooter makes rainy days not awful any more.