FOSJOAS K1 electric skateboard wins from the aspect of its stylish design
Source:Fosjoas begin Time: 2016-06-02
With the release of FOSJOAS K1 self-balancing scooters, a novel skateboard, Lester was deeply attracted by it owning to its stylish design. This skateboard is not the same as we played with in our childhood. This is a wireless remote control skateboard, made by Moben Global Inc. It rises to prominence soon all over the world.
As we know, the young men predominate amongst the group of customers. The majority of them go after the fashion and vogue. They are into something novel and interesting and detest the featureless and boring. Lester is no exception. Different from the traditional skateboard, FOSJOAS K1 maple electric skateboard is powered by electricity, offering an effort ride even though it adopts the same exterior as the traditional skateboard, four wheels and a board.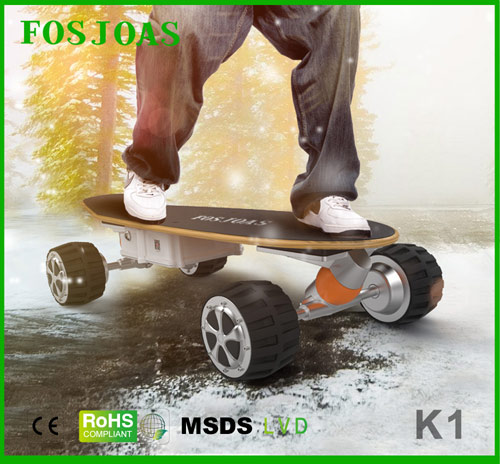 FOSJOAS K1 motorized skateboard is equipped with larger wheels to make the skateboarding smoother. Thanks to the cooperation of world-famous brand tire, It is adopted the customized tires into FOSJOAS K1 with such features as skid proof, strong grip effect, wide tire design, which is suitable for the whole road conditions. It not only shows people's character but also ensures safety because it put an end to "explosion, leakage or breaking".
This is far from making Lester more fashionable and dashing. What make Lester intriguing are the stylish changeable stickers onto the board of FOSJOAS K1 DIY electric skateboard. If one set of K1 has merely one single sticker, it looks dreary. The same to the board, battery and wheels. They are all designed into modularity. According to their own taste and needs, they can change a larger battery to suffice longer range or to alter the maple board to their favourite one.
FOSJOAS K1 cheap electric skateboard creates a varied life for Lester. And it can be said that FOSJOAS K1 gives a new spirit to the riders, as Lester full of vigour and vitality has a positive influence on the people around him.