Why Not Ride Fosjoas U1 Mini Electric Scooter to Enjoy Delicious Food Near Campus?
Source:Fosjoas begin Time: 2016-06-02
University students have the most beautiful age. In this age, they love delicious foods or many beautiful things. It is easy to find that many shops that sell different delicious foods are scattered around the every university campus. Different from middle school and high school, university campus is a free paradise. They can go out of campus and seek for delicious foods after class or on weekends. What they are short of is a convenient and portable transport. Now, such a transport comes into being and its name is Fosjoas U1 mini self balancing scooter uk.
Just as its name implies, Fosjoas U1 electric scooter has very small figure and thus it can weave through even some narrow lanes. In other words, it can come in or go out of food shops freely. Meanwhile, it is powered by lithium-ion battery and the maximum range is 35km. Thus, students can ride it to the near food palace at will. When they sit down and start to enjoy foods, they can put Fosjoas U1 electric scooter under desk easily. After meal, students can ride it to wander about some boutiques, clothing shops or even watch the newest movie. When they are about to go back to dormitory, they may be a little tired. At this moment, they can draw out the saddle of Fosjoas U1 electric scooter and ride it by sitting-posture mode. How wonderful a weekend!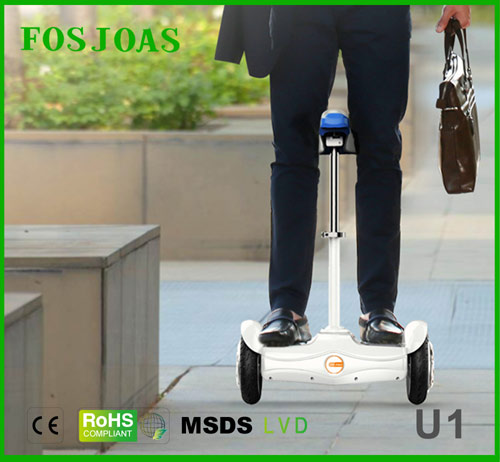 Nowadays, more and more university students fall in love with Fosjoas U1 self-balancing scooter. It truly makes their university life rich and colorful. Different from other transports, Fosjoas U1 self-balancing scooter is also much safer and more labor-saving. Some parents even buy Fosjoas U1 intelligent self-balancing scooters and give it for their kids as a gift. If you are also a university student, you will need Fosjoas U1 scooter, too.