A different 2-wheeled electric scooter-FOSJOAS U3 full of considerations
Source:Fosjoas begin Time: 2016-06-03
FOSJOAS U3 full of considerations is a different self-balancing two wheel electric scooter released by Moben Intl. FOSJOAS U3 is the most considerate model in the sector. Although it is famous for its high-performance, its considerate design is not to be sniffed at. So far, FOSJOAS U3 2 wheel electric scooter has received unanimous favourable feedback. Of course, it is not coincidence. Referred to the design of Lamborghini, the streamlined design of FOSJOAS U3 coupled with SUV metal holders, confirms to the spacecraft attitude control structure that is ergonomically designed for the comfort of the rider.
Moben Intl endows FOSJOAS U3 two wheel self-balancing electric scooter with natural ride ability owning to the handlebar and two large wheels. The handlebar on FOSJOAS U3 eco-friendly electric scooter feels very soft and comfortable. The threaded handlebar is good for prevent the rider hands-off during ride. Especially when the rider goes down the bridge, it is rather dangerous not to hold on to the handlebars.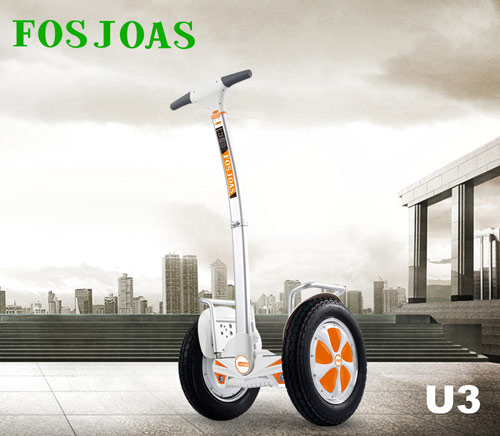 FOSJOAS U3 standing up electric scooter is positioned as an ATV alternative to the private car. That is, FOSJOAS U3 is intended for off-road ride, able to pass all terrains. In rainy day, when FOSJOAS U3 passes the wet road, the water may spatter over U3. If the water permeates the shell, the circuit is subject to short-circuit. Such concern will be passed on FOSJOAS U3, as it is up to the IP56 waterproof standard.
What's more, the wing goes some way toward shielding FOSJOAS U3 intelligent kids electric unicycle from the dirty water. Moben exclusive fender holder is made of special aviation aluminium alloy being lighter and more durable with greater holding capacity. Combined with the two large wheels and larger battery capacity, FOSJOAS U3 self-balancing 2 wheels scooter is able to negotiate all terrains that show the attentiveness of Moben Global Inc. to details.