A kind of carefree and relaxed riding experience with FOSJOAS K2 electric scooter
Source:Fosjoas begin Time: 2016-06-03
Evelyn likes shopping with her friends. Shopping is her biggest hobby. Almost every week, she will go shopping in the pedestrian street. She conditions herself into strolling in the street for hours. She regards it as a treat and leisure. However, she still harps up on about the fatigue caused the long-time walking. The FOSJOAS K2 2-wheeled balancing electric unicycle provides her a kind of carefree and relaxed riding experience. K2 looks like the traditional electricity-assisted scooter, however, it is totally different from it.
To begin with, FOSJOAS K2 is small in size and light in weight. Especially the innovative folding system, K2 foldable electric scooter enables individuals to easily carry it into elevator, subway, bus etc. Each time she rides it for shopping, there is no need for her to worry about the issue about parking. FOSJOAS K2 is very small so that she could ride into building and store. If she wants a cup of coffee, she could ride FOSJOAS K2 directly into a cafe, parking K2 aside her. More importantly, riding FOSJOAS K2 releases no exhaust and noise.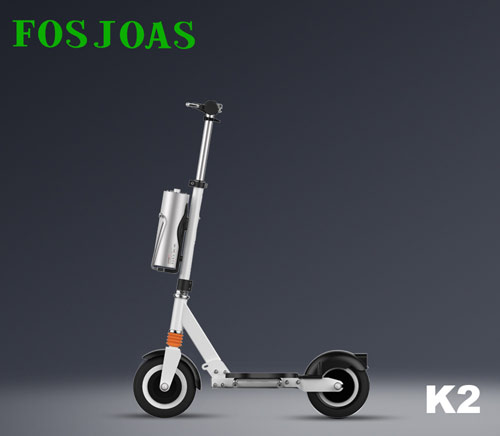 Also, the battery is in a modular design, easy to disassemble and replace. No matter how long time Evelyn is going to stroll, FOSJOAS K2 will never run out, as long as she prepares enough spare batteries. As FOSJOAS K2 is a kind of standing up electric scooter, it serves the purpose of doing exercise. Evelyn has built up her body during the ride and she treats it as an entertainment as well as a tool of working out. The versatile FOSJOAS K2 electric self-balancing scooter keeps Evelyn company and offers a great help. Just this kind of electric scooter serves as a great help to her, especially when she strolls in the pedestrian street.