Aimi's Favorite Birthday Gift - Fosjoas K3 Sitting-Posture Electric Scooter
Source:Fosjoas begin Time: 2016-06-04
One of Aimi's relatives has owned a Fosjoas K1 electric skateboard which make her envy much. As a girl, Aimi likes kinds of extreme sports. Her parents bought a Fosjoas K3 sitting-posture self-balancing electric scooter as her birthday gift. She was so exciting when she opened the box. With the help of her father, she assembled Fosjoas K3 successfully. FOSJOAS K3 with full seal design, safe trip in rainy days
Controlled by user's body inclination, Fosjoas K3 sitting posture self-balancing scooter features a quick reaction time of 0.03s, fine-tuned for instantaneous and intuitive control. According to the name, Fosjoas K3 self-balancing electric scooter adopts sitting-posture riding mode and it is equipped with a soft leather saddle, which offers comfortable riding experience and won't make riders fatigued after long-time riding. Under the saddle, there is an original hydraulic suspension unit, which can absorb shocks on bumpy roads and control speed when going downhill so as to protect riders. In the meantime, an automatic steering-sensor system is installed on the back of saddle.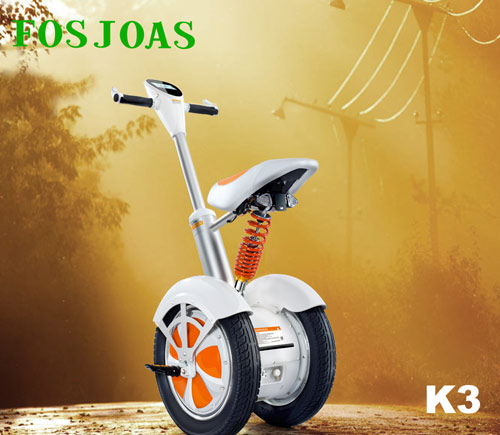 Besides, Fosjoas K3 electric scooter with seat is also equipped with an electronic brake system. The specifications say that electronic brake system offers a quick and accurate brake with only 50mm stopping distance. The latest maglev technology applied in motor enables a non-bearing and non-radial load design so that a wearing part is omitted. In other words, the motor is more durable. The dedicated LCD panel makes for a perfect riding and gives an overall information about the scooter condition.
There are Four-fold protections to safeguard your every riding. Speed limit protection, low battery protection, tilting protection, safety protection and beep alert minimize the risk of potential injury caused by improper use. There is no doubt that Aimi's Favorite Birthday Gift- is Fosjoas K3 two wheel saddle-equipped self-balancing unicycle. In a word, Fosjoas intelligent electric scooter makes life more colorful and wonderful.