Sit-stand to ride Fosjoas U1 mini electric scooter is amazing.
Source:Fosjoas begin Time: 2016-06-06
Fosjoas R&D team is continuous to develop and create new scooters. That is also one of the most important reasons accounting for its success. It always welcomes wide consumers to have a test riding on scooters with different types. Then, consumers can get to know which scooter type is suitable for them and whether they want to buy one or not. Now, the Fosjoas U1 mini electric unicycle is one of the best examples, realizing two riding modes.
As a Fosjoas electric scooter fan, Coli has owned V6 electric unicycle and V9 two-wheeled scooter already, but he still bought Fosjoas U1 sitting posture electric scooter after test riding, owning to not only the cute and exquisite figure and excellent performance. Of course, the most important element is the dual-ride posture. Fosjoas U1 two wheel saddle-equipped scooter gives Coli a totally different riding experience and also very happy mood.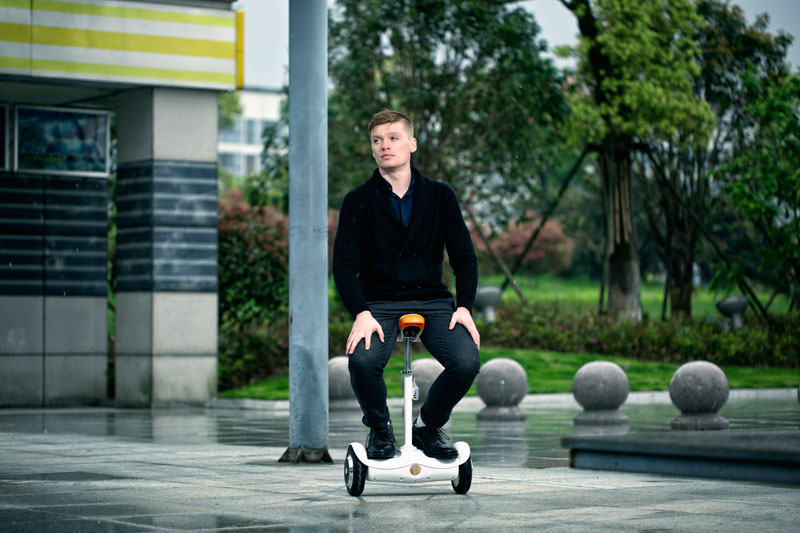 Meanwhile, Fosjoas self-balancing electric scooter is equipped with a moveable saddle allowing different sutures' people to find the most comfortable riding posture, which offers double riding modes: standing-posture and sitting-posture. Fosjoas two wheel saddle-equipped scooter U1's pedals made of PC materials are very soft and comfortable. What's more, the two 8 inch tyres are also deserved to introduce in particular. Although they are small and delicate, they can provide endless power. The unique design of tread pattern makes tyres have more extraordinary adaptability in outdoor environment, so that Coli can ride it on some bumpy roads smoothly and stably.
Also, Fosjoas U1 saddle-equipped mini electric unicycle can be connected to mobile phone, via the mobile App which can be downloaded from its official website. With the App, Coli can learn the riding speed, remaining battery, total mileage and outdoor temperature conveniently. In a nutshell, sit-stand to ride Fosjoas U1 mini electric scooter is amazing.