How About Riding Fosjoas K2 Electric Scooter to Enjoy Cool Sea Breeze?
Source:Fosjoas begin Time: 2016-06-12
Finally, the long-expected summer is coming and the day is longer than night. More and more people are willing to go out of house. Some people prefer to take exercise, some people may just walk and breath fresh air and some other people want to do something special, like enjoying sea breeze. If the sea is several kilometers away from the house, Fosjoas K2 two wheel electric scooter unicycle is a must. It will give people a happy and cool summer.
Fosjoas K2 2-wheeled electric scooter is equipped with two pedals that are made from matting material. They not only have great skid resistance, but also make feet very comfortable. At the same time, two handlebars give very good hand feel. On the top of front wheel, there is a shock mitigation system, which can absorb bumps and thus can go through different road conditions. The adopted anterior standing design accords with principles of ergonomics and won't make riders fatigued even if it is a long-distance trip. Above all, Fosjoas K2 2-wheeled electric scooter always offers very comfortable and relaxing riding experience, which is very suitable for hot summer. Before sunrise or after sunset, if people ride Fosjoas K2 2-wheeled electric scooter along the sea, it will be a terrific enjoyment.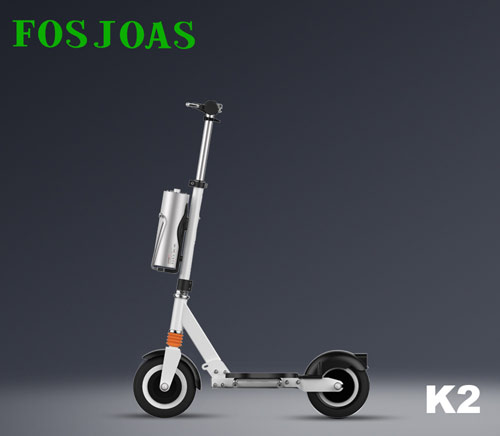 People don't need to worry about the distance between the house and the sea, because Fosjoas K2 balancing electric unicycle standing up electric scooter offers unlimited range, which benefits from the equipped replaceable battery unit. If the battery runs out, riders can replace it with another one. Here is an example. If the distance from house to sea is 9km, riders can get to sea within 30 minutes. Therefore, it is a very good activity after supper in the summer. Meanwhile, the whole body will be exercised during the riding course.