What Are Differences Between Fosjoas K1 Motorized Electric Skateboard and Traditional Skateboards?
Source:Fosjoas begin Time: 2016-06-16
The birth of Fosjoas K1 cheap electric skateboard is a big news in skateboarding world. It adopts high technology and makes sliding so exciting. Too many skateboarding lovers say that they are eager to have a try on Fosjoas K1 motorized skateboard. Then, what are differences between Fosjoas K1 motorized skateboard and traditional skateboards? The following will unveil them to people and let them know more about Fosjoas K1 motorized skateboard.
Fosjoas K1 electric skateboard is a high-tech product. It is powered by imported lithium-ion battery and thus saves skateboarders much physical strength, while traditional ones are driven by strength. In order to make sliding smooth and stable, PU material dampers are installed on front and rear wheels respectively, which can absorb bumps on roads. Ordinary skateboards don't pay attention to this part.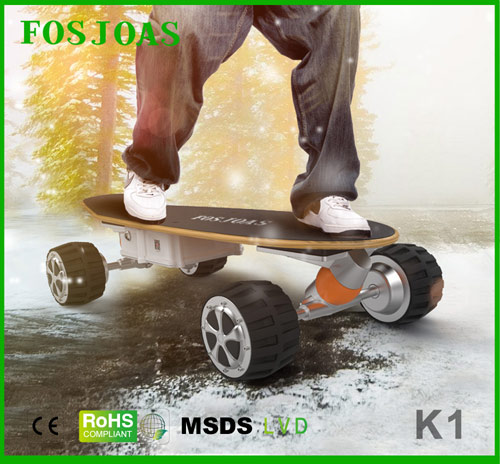 Fosjoas K1 electric skateboard has three protection systems, including speed protection, tilting protection and battery protection. If the speed is faster than 18km/h, tilting angle is bigger than 15 degrees and the remaining battery is lower than 15%, the protection systems of Fosjoas K1 electric skateboard will start to work. However, common skateboards don't have these protection measures. Besides, Fosjoas K1 electric skateboard adopts four wider and thicker tyres than that of ordinary ones. Then, it owns stronger road holding capacity and better skid resistance, which ensures safe sliding.
Fosjoas K1 skateboard also has many humanized designs. 2.4G wireless remote control comes very first. It lets skateboarders control Fosjoas K1 skateboard within 10m at will. It is also equipped with an exclusively-designed APP. Such an APP can be installed in the cell phone and people can get to know the real-time state of Fosjoas K1 electric skateboard, like running speed, remaining battery, temperature and mileage. In addition, Fosjoas K1 skateboard also offers DIY stickers so as to satisfy different aesthetic values of skateboarders.