How About Riding Fosjoas U3 Two-Wheeled Electric Scooter to Enjoy Cool and Fresh Air in summer?
Source:Fosjoas begin Time: 2016-06-20
The temperature is rising with each passing day. It means another hot summer is coming. Lots of people prefer to stay at home and enjoy the cool air from air conditioning. In fact, a cool and fresh place can be found even if in hot summer. Of course, people need a tool and Fosjoas U3 two wheel self balancing scooter is the best choice.
When is the coolest moment in hot summer? Undoubtedly, it is early morning or late night. Where is the coolest place in hot summer? It must in the nature where there is a forest. Then, people can make the best use of the cool time and cool place to take exercise or just relax. Now, people need a tool to take them there. Fosjoas U3 electric scooter has two big, wide and thick tyres in high quality. Thus, it can take people to the wanted place easily even if it is bumpy or tough road. Meanwhile, Fosjoas U3 electric scooter keeps itself balanced by adopted aerospace attitude control theory, fuzzy software algorithm and gyroscope system. That is to say, riding is almost effortless and thus it won't make riders sweat like a pig.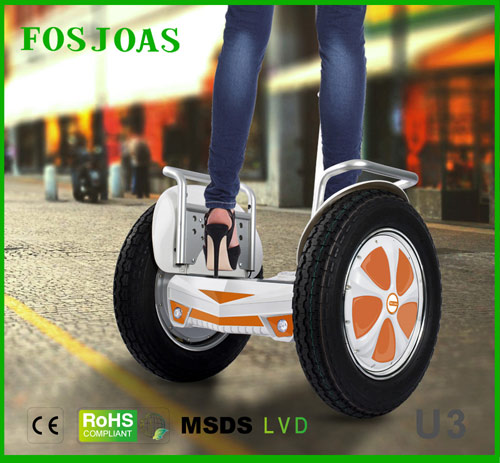 In fact, the forest air in the early summer morning is helpful to strengthen physical fitness. People had better take advantage of this time quantum. In order to relieve mood, Fosjoas U3 self-balancing scooter has a built-in bass sound chamber. The large volume closed chamber is able to achieve the best sound quality and gives riders an unmatched music experience. Riders can connect the sounder chamber with cell phone via Bluetooth. Then, they can play the loved songs in the phone during riding course. It will be a perfect enjoyment in summer when riding Fosjoas U3 electric scooter, listening to melodious songs and breathing fresh air at the same time.