How Do Beginners Ride Fosjoas K1 Electric Skateboard Freely?
Source:Fosjoas begin Time: 2016-06-23
The advent of Fosjoas K1 cheap electric skateboard attracts attention of many skateboarding zealots. They love its exquisite figure line and powerful performance. What is more, it makes skateboarding a great enjoyment. Although many skateboarding enthusiasts can ride Fosjoas K1 electric skateboard easily and freely after several times test riding, beginners still should deeply know the work principle and grasp some control skills.
It is a type of magical skateboard, because it can help riders to finish all controls, such as speeding up, slowing down or changing direction, by reading their body inclination, which benefits from aerospace attitude control theory, fuzzy software algorithm and gyroscope system. Beginners can stand on the board of Fosjoas K1 motorized skateboard and slightly lean forward or backward so as to feel acceleration and deceleration. It doesn't need too much time to grasp such skill. When running into bumpy road, beginners don't worry at all. Fosjoas K1 motorized skateboard can effectively handle bumps and makes riding stably. It largely depends on equipped high-elastic damper blocks that are installed on front and rear wheels.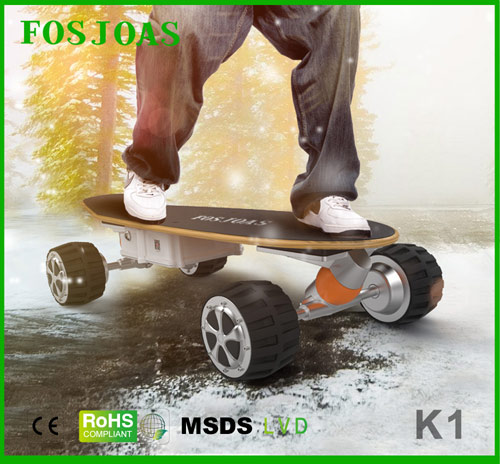 The equipped 2.4G wireless variable speed remote control is another outstanding bright spot of Fosjoas K1 skateboard, which is also the blessing to beginners. Such a remote control has 10m effective range. Riders can control to go back or forth at will. Although controlling Fosjoas K1 skateboard is quite easy, beginners had better practice it on an open land. After riding expertly, riders can challenge some difficult road conditions. In addition, Fosjoas K1 self-balancing electric scooter has an APP that can be downloaded from official website and installed in the phone. Then, beginners can read the speed, remaining battery, total mileage and even outdoor temperature via the APP in the cell phone. It is a great helper for beginners. They will feel very relaxed for knowing what state they are in, so beginners must make the best use of this APP.